Feature article September 26, 2023:
Québec Innovative Materials Corp. High-Purity Silica Presents Opportunity
Québec Innovative Materials Corp.
(CSE: QIMC) (Frankfurt: 7FJ)
Share data, Capitalization, & Corporate info
Shares Outstanding: 73.91 million
Recently Traded: ~CDN$0.04/share (CSE:QIMC)
52 Week High/Low: $0.11/ 0.03
Current Market Cap.: ~$3 million Canadian
Corporate Website: qimaterials.com
Valuation Commentary: Québec Innovative Materials Corp. (CSE: QIMC) (Frankfurt: 7FJ) is a Canadian-based mineral exploration and development company rapidly advancing toward a near-term industrial mining production scenario on its portfolio of high-grade SiO2 properties in Ontario and Quebec.
Demand for reliable high-purity quartz/silica feed is increasingly critical for companies such as nearby Montreal-based HPQ Silicon Inc. which is developing several new advanced silicon innovation processes that will drive the future (see related news release "QI Materials Delivers Additional Samples to HPQ Silicon Inc." and "QIMC Contributes to HPQ Silicon Battery Initiative", among others), such as GM and Ford which are building new EV battery plants nearby (next gen lithium silicon anode batteries offer improved performance and capacity), such as solar panel glass manufactures and a myriad of other applications (ceramics, building materials, foundry and metals, coatings and polymers, chemicals, filtration and absorbents, etc.). CSE:QIMC is set for upside share price revaluation to better reflect its strategic positioning, able to provide crucial feed.
The Company has prioritized its recently acquired 100%-owned River Valley Silica Property, 65 Km northeast of Sudbury Ontario, to be advanced toward fast-track production. River Valley has no permitting issues, it hosts a substantial quarryable body of 98% - 99.9+% pure SiO2 proximal roads and rail infrastructure. QIMC also benefits from the expertise of the former owner, a mining engineer who retains a 2.5% royalty, he will be expediting permits, assist in designing a quarry, and facilitate first nations consulting. An overview of two key silica projects belonging to QIMC (1-River Valley, 2-Charlevoix in Québec) may be viewed further below in this article.
Unlike traditional mining mineral resources (such as gold), which require copious amounts of drilling, silicon dioxide is industrial quartzite and a massive voluminous resource is able to be blocked out quickly with a few 100m drill holes (~1,000 m total should suffice), also these type of bodies are typically operated for multiple decades and the grades/quality get better with depth (where there is less weathering and impurities). The hard part (which QIMC has already accomplished) is to find the right combination of purity, consistency, access, permitting, and infrastructure -- the actual extraction of material is typically inexpensive (as its quarry-style mining), it is the transportation costs that can quickly add up. At River Valley its a short trip down highway and onto established rail network, and at Charlevoix it is only ~3.5 hours by road to Montreal (where HPQ, and other manufacturers are along the Saint Lawrence). In-short, economics are expected to be robust.
Over the coming months QIMC will continue to provide silica feed from its Charlevoix project to various industry participants, while it juxtaposes development efforts to ready River Valley and the new Charlevoix discovery zone. The new discovery zones 3, 4, & 5 at Charlevoix are preferable (over the established Zone 1 & 2) as they are higher purity and are confirmed without permitting issues, 100% outside any hunting & fishing zec. Property zones will be stripped clean and various surveys conducted as needed with the intention of going operational.
Market Equities Research Group has a near-term (12 month) share price target several time higher the current for CSE:QIMC: QIMC currently has a nominal market cap of ~C$3M (~73.91 million shares trading near ~C$0.04). The company has sufficient capital on hand to accomplish all exploration and development goals for 2023 and into next year. The share price of QIMC is poised for upside revaluation as the significance of what Québec Innovative Materials Corp. possesses is better appreciated by the market. A good comparable for investors in QIMC to look forward gravitating towards is that of Homerun Resources Inc. (HMR), a silica pure-play out of Brazil -- HMR trades with a marketcap near C$40M; Comparably QIMC is on par for silica and is out of North America, which affords certain advantages. QIMC has simply been under-the-radar, however now with the moves its making to advance key assets combined with continued expressions of intent from client HPQ and others, it appears only a matter of time before QIMC gravitates significantly higher in share price (several multiples current) and trade closer to parity with HMR.
Figure 1. (above) -- QIMC has various grades and types of feed stock, mined from its Charlevoix project, prepped and ready for delivery to clients requiring silica according to spec. Visible in the image above in the bags up front and in the insets are large crystalline-like chunks that are milled to specification; in HPQ Silicon Inc.'s case they are very specific: X size, at X grade, X-sort of dimension, roundness angularity, etc. -- reports are they are very pleased with the product being delivered. In the image above, any weathered look is attributed to surface exposure -- simply crack below the surface and the silica is much more translucent white. The rows of bags further to the back are finer material, a by-product of processing the main batch -- this material would go to a different client such as an asphalt company; no waste.
Figure 2. (above) -- QIMC's mobile refining processing plant for custom batches, with inset of current world market pricing* (*annotated by Mining MarketWatch Journal). For reference, the product processed in the bags seen up front in Figure 1 would likely command somewhere between US$225 - $500/tonne, depending on specs -- certainly offering quality margins for QIMC once operational at scale. HPQ is able to take the feed from QIMC and upgrade it using proprietary technology to US$500 - $5000/tonne range product, HPQ can produce the value-added product significantly cheaper and more environmentally friendly than any current process being employed now in the world.
QIMC has a MOU with HPQ Silicon Inc. whereby QIMC provides feed stock for HPQ's various processes, currently in various stages of development. HPQ is a technology firm that is on the cusp of literally revolutionizing several multi-billion dollar industries. Market Equities Research Group believes the market cap of HPQ is poised to propel ~10X (to well over C$1B) as its various verticals advance over the next couple years. The fact HPQ approached QIMC to secure its high-purity silica feed speaks volumes. Prior to using QIMC, HPQ was sourcing feed from private operators that charged horrendously for the uniquely rigorous specs HPQ needed.

The activities of HPQ are centred on three key verticals:

1) Becoming the lowest-cost (capex and opex) manufacturer of high-purity silicon (2N+ to 4N) using HPQ's proprietary PUREVAP™ Quartz Reduction Reactor (QRR). This is a process to convert quartz into high purity silicon in one step. This industry alone is a near-US$15+Billion industry globally, projected to rise to $30B in under a decade with the growth of silicon based anode material, and the process HPQ has perfected now is set to send shock-waves through the industry as HPQ's process gives it a substantial competitive advantage once implemented on a large scale. Even on a smaller scale, initially focusing on precise high purity material at the right scalability, HPQ will quickly dominate as there are many buyers that are going to be looking for a consistent feedstock for what they are doing.

2) Becoming a green, low-cost (capex and opex) manufacturer of fumed silica using HPQ's proprietary Fumed Silica Reactor (FSR). HPQ just recently announced the first samples of commercial-grade Fumed Silica delivered to a 3rd party. The competitive advantage of HPQ's Fumed Silica process once rolled out on a large scale is on a transformational order of magnitude.

3) Developing a small and compact process for on-demand green hydrogen production created through the hydrolysis of silicon and other materials. Only recently have patents been filed that allow HPQ to discuss the incredible potential. By the end of 2024 HPQ will have an operating prototype, an operational system that either military or civilian application can use to validate that it works for their application. HPQ's affiliated company in France filed a patent for an autonomous low carbon footprint on demand pressurized hydrogen production system. A key point is no electricity is required. It is truly an autonomous system that is going to change the way hydrogen can be produced. What makes this system really unique is that instead of having an electrolyzer that extracts the hydrogen from the water, HPQ uses non-hazardous materials to chemically react with the water and generate the hydrogen. What is fundamentally even more exciting about this technology is that the hydrogen produced will be under pressures presently used by commercial applications. So not only can it fabricate the hydrogen on demand autonomously, it will be able to furnish the hydrogen in a way that the industry is capable of using – essentially having the ability to have pressurized hydrogen wherever one needs in the world. One of the application for the military is to instantaneously generate hydrogen in the battlefield on demand, the demand for hydrogen powered equipment in the battlefield will increase. Forward-looking, this technology will not only be the most efficient, safest way of producing hydrogen, but it will be probably be the cheapest way of delivering hydrogen on demand anywhere.

HPQ needs QIMC's feed in order to satisfy its clients and partners that it can deliver product. As QIMC enters full industrial quarry mode and HPQ excels, it is not an unrealistic scenario to eventually see HPQ (with its strong share price) target QIMC for acquisition -- especially since quality feedstock is the lifeblood of HPQ and these assets are in their homebase jurisdiction.
QIMC is only a few years old, it was originally created specifically twofold; 1) to position as a primary source of silica (which it has concentrated on first), and 2) to work in the technology related side. With its access to quality silica assets, the basic building-block needed to capitalize on technological opportunity, QIMC can leverage its assets and relationships to innovate and expand into its own value-added technology related ventures down the road.
Recent news headlines from Québec Innovative Materials Corp.:
● September 20, 2023 -- "QI Materials Delivers Additional Samples to HPQ Silicon Inc."
● September 14, 2023 -- "QI Materials to Mobilize Crew to River Valley and List on the Frankfurt Exchange"
● September 7, 2023 -- "Qi Materials Acquires River Valley Silica Property And Announces New Chairman"
● August 29, 2023 -- "QIMC announces assays over 99% SiO2 from newly discovered zones at the Charlevoix Silica project"
● July 26, 2023 -- "QI Materials Announces Program on Highly Prospective Silica and Dolomite at its Ville Marie Property"
● June 29, 2023 -- "QI Materials Provides Pilot Plant Update"
● May 31, 2023 -- "QIMC Mobilizes Pilot Plant and Begins 2023 Exploration"
● April 26, 2023 -- "QI Materials Reports High-Grade Results from Channel Sampling"
● March 14, 2023 -- "QIMC Contributes to HPQ Silicon Battery Initiative"
Below is an summary of QIMC's key silica assets:
1) River Valley Silica Project - 100%-owned

Located in the Sudbury mining division, near River Valley, Ontario, Canada
This project was recently acquired September-2023 (click here for related news release). This is a remarkably good project, news flow should be steady from QIMC as it is quickly advances toward large-scale operational quartz/silica quarry status.
Progress / Development Update on River Valley:
See related September 14, 2023 news release "QI Materials to Mobilize Crew to River Valley and List on the Frankfurt Exchange"; "Qi Materials plans on having a crew mobilized to the newly acquired River Valley Silica Project early next week. The Company plans on completing a breadth of exploration and development stages over the next few weeks. These are anticipated to include: establishing access, outcrop cleaning and stripping, channel sampling, detailed geological mapping, detailed geological sampling, a detailed topographic survey, and drill hole planning." #
Figure 3a & b. (above) Historical photos of a portion of the quartz vein at River Valley Silica Project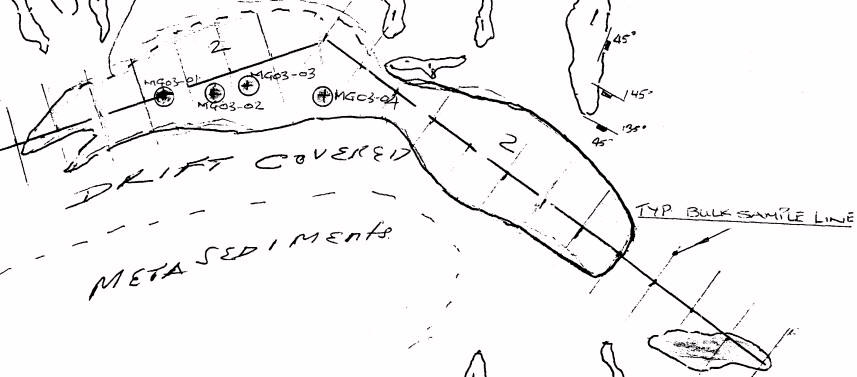 Figure 4. Key mapped quartzite surface expression from historical report (*historical reports: PDF-2019 & PDF-2004)
The River Valley Silica Project is host to a high purity quartz vein. Publically available historical* purity results and mapping indicate that the quartz vein is up 99.9% pure SiO2. Historical* mapping indicates that the quartz vein is over 300m long and over 40m wide.
Figure 5. (above) Historical Results; enlarged image of SiO2 section from lab assay table results from the 2019 report. Site visit by professional geologist Raymond Wladichuk, CEO of Qi Materials, confirms that these historical reports appear to be accurate.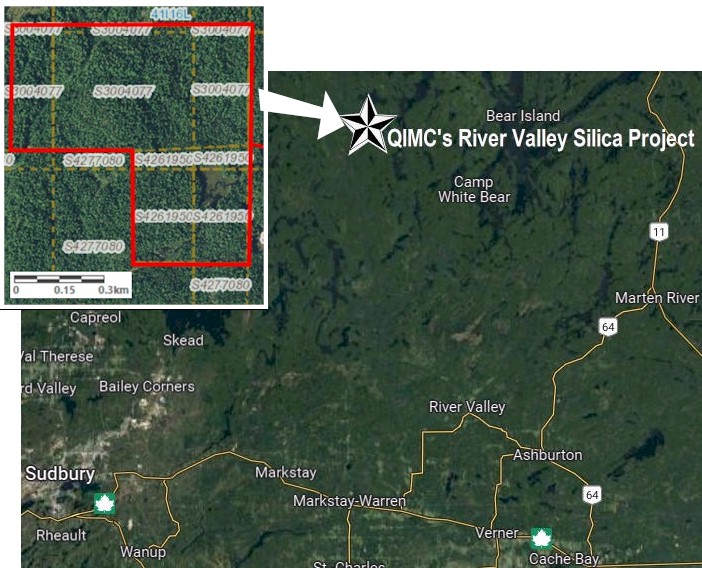 Figure 6. (above) Location Map of River Valley Silica Property with inset claims map (different scale) -- 65 kilometres north east (as the crow flies) from the world-class mining camp of Sudbury, Ontario. It is easily accessed by existing road infrastructure, and a short trip to the River Valley network of rail transfer stations. The Property covers an area of approximately 47 hectares.
------ ------ ------ ------ ------ ------ ------ ------ ------
2) Charlevoix Silica Project - 100%-owned

Located near Clermont, Québec, Canada
Figure 7. (above) Location Map.
Figure 8. (above) Map of Charlevoix Silica Project showing zones -- The new Zones 3, 4, & 5 are 100% located outside the hunting and fishing zec, thus large-scale permitting is no different than neighbour Sitec Mine, just across the highway, which is the largest employer in this mining-friendly region. Sitec quarries high-end quartz countertop material and has operated for over 50 years.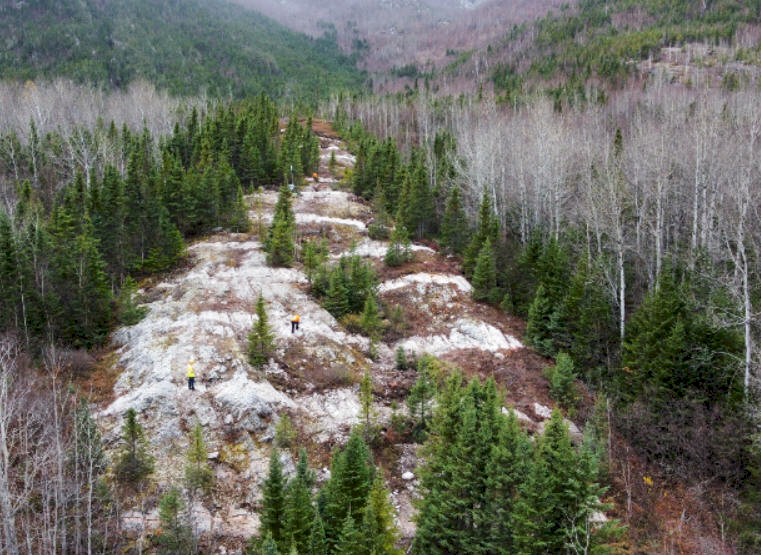 Figure 9. (above) Aerial photograph of the Charlevoix Silica Project Main Zone 1.
In the summer and fall of 2022, the Company stripped the overburden off the Main Zone silica outcrop (Figure 1). A series of 16 channels were cut across the stratigraphy and sampled at one (1) metre long intervals as seen in Figure 2. Approximately 50% of the channel samples were sent to ALS Global for purity analysis, the remaining samples were delivered to the Institute National Research Scientifique (INRS) in Québec City for further analysis. The results of the purity analysis suggest that the majority of the Main Zone outcrop is comprised of high-grade silica, returning an average grade of 98%, with purity ranging as high a 99.88% SiO2; see related April 26, 2023 news release entitled "QI Materials Reports High-Grade Results from Channel Sampling".
Zones 3, 4, & 5 on Charlevoix Silica Project
See related August 29, 2023 news release "QI Materials Announces Assays over 99% SiO2 from Newly Discovered Zones at the Charlevoix Silica Project"; The QI Materials field team's mapping and prospecting efforts have led to the discovery of newly found quartzite outcroppings with remarkably high purity grade. The new zones currently named zones 3, 4, and 5 occur approximately one kilometre northeast of zones 1 and 2. According to SIGEOM, the ministry of Quebec's public natural resources database, the new zones are located outside of the Zec des MartresSeven (7) samples were delivered to ALS Global's lab in Val d'Or, Québec where they underwent purity analysis. These samples were selected from various locations on the outcrops and averaged over 98% SiO2 ranging from 97% to over 99%:
SAMPLE
%
SiO2
%
Al2O3
%
Fe2O3
%
CaO
%
MgO
%
Na2O
%
LOI
%
Total
X370201
97.95
0.76
0.66
0.02
0.05
0.02
0.21
99.81
X370202
97.04
1.19
0.52
0.02
0.04
0.16
-0.02
99.74
X370203
98.12
0.50
0.70
<0.01
<0.01
<0.01
-0.09
99.43
X370204
98.52
0.54
0.87
<0.01
<0.01
0.01
0.04
100.05
X370205
97.56
0.97
0.83
0.03
0.08
0.20
-0.05
100.10
X370206
98.76
0.25
0.65
<0.01
0.01
<0.01
-0.08
99.74
X370207
99.07
0.16
0.66
<0.01
<0.01
<0.01
-0.06
99.89
Table 1. (above) Assay results from new zones.
Figure 10a&b. (above) Photos of Quartzite Samples from New Zone -- The majority of the samples collected from the new zones are of beautiful, clear, near-crystalline quartzite.
| | |
| --- | --- |
| Figure 11. Vertical wall of quartzite, new zone Charlevoix | Figure 12. Quartzite, new zone Charlevoix |
Figure 13. Translucent quartzite, new zone Charlevoix

Figure 14. Quartzite, new zone Charlevoix.

Note how weathered look gives way to translucent white deeper in.