Feature article January 21, 2021:
Typhoon Highly Prospective for New Gold Discovery, Drilling the Prolific Porcupine-Destor Break
Typhoon Exploration Inc.

(TSX-V: TYP) (US: TYPFF) (TPH1.BE)
Share data, Capitalization, & Corporate info
Shares Outstanding: ~62.8 million
Recently Traded: ~CDN$0.08/share (TSX-V: TYP)
52 Week High/Low: $0.03/ 0.11
Current Market Cap.: ~$5.1 million Canadian
Corporate Website: www.explorationtyphon.com
100%-Owned Aiguebelle - Goldfields Property: Confidence for a high gold hit ratio on this fall-2020 drill program is strong; targets on ground only a few 100 m westward from the Fayolle Property, for which Monarch Gold recently drilled 3.33 g/t over 109 m and sold to IAMGOLD.

100%-Owned Syenite-Condor Property: Blocks found at surface are understood to be frozen clay pushed up, grading 5.28 g/t, 3.11 g/t, 2.31 g/t, 2.74 g/t gold.
Valuation Commentary: Typhoon Exploration Inc. (TSX-V: TYP) (US Listing: TYPFF) (Berlin: TPH1) is a Canadian-based mineral exploration company focused on advancing its now 100%-owned Aiguebelle-Goldfields Property and Syenite-Condor Property, both located along the eastern extension of the Porcupine-Destor Fault (Quebec-side), part of Canada's prolific Abitibi Greenstone Belt. The belt is a hot bed of past, current and developing producers; this world-class belt has produced ~200 million ounces of gold since the first mines were developed in the early 1900s.
Figure 1. (below) Abitbi Greenstone Belt

The Abitibi is the world's largest mineral-rich greenstone geological belt, hosting many major gold and base metal deposits. It is a ~450 km long by 150 km wide geological structure that runs through the Canadian Shield, from west of Timmins, Ontario, then eastward to Chibougamau, Quebec.
All of Typhoon Exploration's properties are strategically located at the eastern limit of the Porcupine-Destor fault and highly prospective for gold discovery of significance. With only ~57 million shares outstanding (~$4 million Canadian market cap.), shares of TYP.V are poised for upside revaluation, especially as results from current and near-term upcoming exploration efforts materialise.
Quality people are behind the management, governance, and technical guidance, we urge readers to view the CV's of key people at the bottom of this article, it is an impressive assemblage of talent.
Exploring for Elephants
Typhoon Exploration Inc. is highly prospective for major gold discovery, the eastern extension of the Porcupine-Destor Fault has Timmins-like gold potential; it is the same belt, same type of rock and gold mineralization.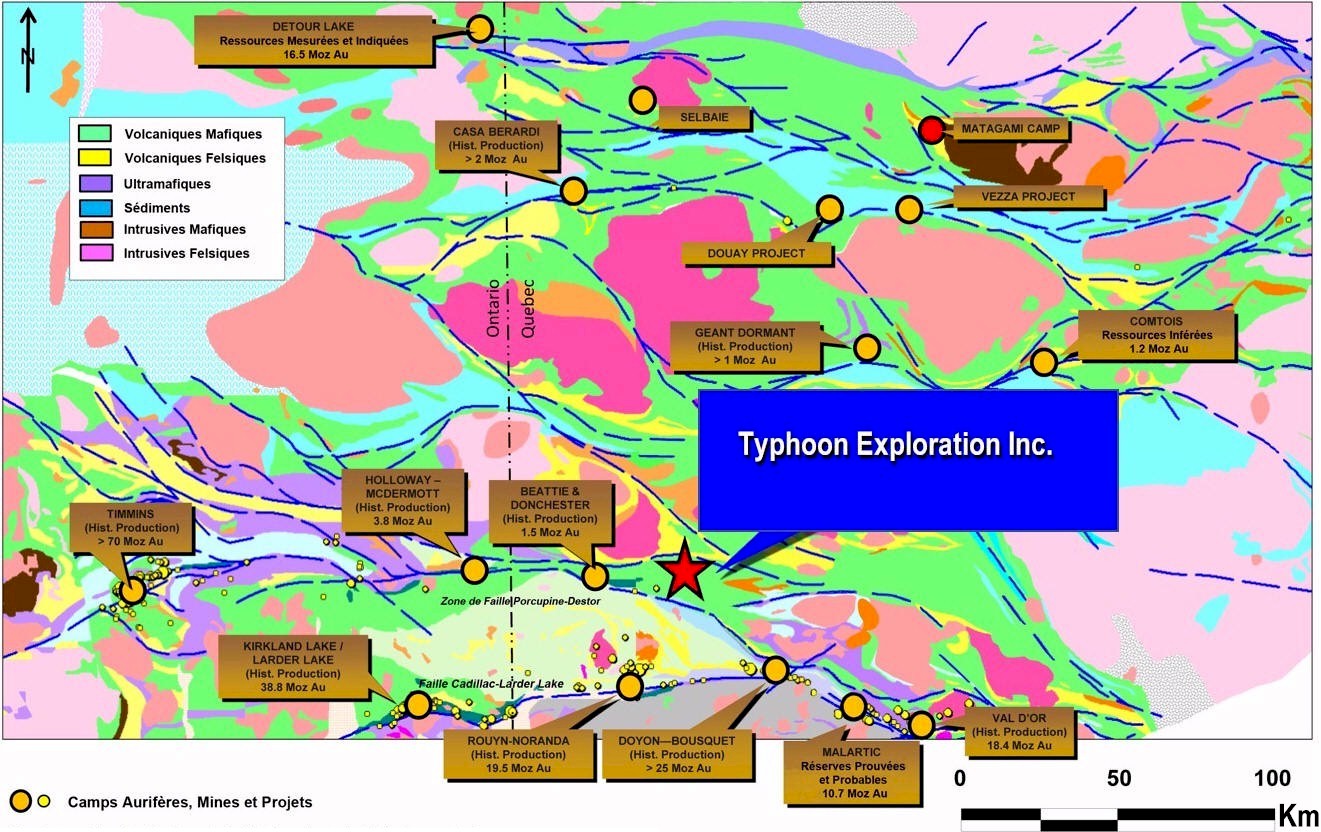 Figure 2. (above) Location Map
1) Aiguebelle-Goldfields (A.K.A 'Fay West') Property, Quebec -- 100% Owned (2% NSR)
Located ~35 km north-east of the town of Rouyn-Noranda (Quebec), the Aiguebelle-Goldfields Property covers the Porcupine-Destor Break extension. The property has good road access and is close to modern infrastructure and mining-friendly/savvy workforce.
Prior to August 24, 2020 Typhoon's now 100%-owned Aiguebelle-Goldfields property was jointly owned and advanced by Typhoon and Agnico-Eagle Mines. Typhoon has since acquired 100% interest and is now keen to advance its improved understanding of the property. The decision by Typhoon to acquire the other half ownership of the Aiguebelle-Goldfields property from Agnico-Eagles was strategic, in that the new neighbour, IAMGOLD, is likely headed into production on its Fayolle ground and will obviously come knocking on Typhoon's door (a junior mining explorer with two properties adjacent Fayolle) as positive results roll in from Typhoon's Fall 2020 drill program. IAMGOLD has a mill it needs to keep feeding only 35 km away.
Figure 3. (above) Location of Aiguebelle-Goldfields property of Typhoon Exploration seen in pink color, located directly adjacent IAMGOLD's Fayolle gold deposit.
Typhoon's Aiguebelle-Goldfields Property is Neighbour to a Significant Gold Deposit
The next-door Fayolle gold deposit was actually brought to PEA stage at one time under the supervision of Typhoon via a 50/50 joint venture with Aurizon Mines, prior to Aurizon's acquisition by Hecla Quebec. The Typhoon-Aurizon Mines joint venture was operated under the supervision of Martin Demers, P.Geo., now a consultant for Typhoon. Monarch Gold got involved on Fayolle and Typhoon's interest in it was bought out a while back, NOTE: Typhoon as of Q3-2020 still owns 2,266,000 shares of Monarch Gold Corporation (MQR.TO); worth well over C$1 million.
The main drilled gold occurrence on Typhoon's ground is located approximately 200 metres westward from the Fayolle Property, for which Monarch Gold Corporation recently released preliminary drill results of 3.33 grams per tonne over 109 metres (see Monarch Gold Corporation's April 30, 2020, press release). Subsequently, this June-2020, Monarch sold Fayolle to IAMGOLD Corporation for a total of $11.5M. The neighbouring Fayolle gold deposit of now IAMGOLD has a tubular shape, like a vertical cigar that keeps going -- interestingly enough, West Timmins has the same geometry and mining is now down over 1 km and going strong. It is not uncommon for miners with Abitibi Greenstone deposits to prove up just enough to be mining economically for a few years, but they stay mining strong for many decades, adding as they go. The grades and characteristics of mineralized zones at Timmins and neighbouring Fayolle deposit offer quality economics -- they are characterized by volume (e.g. not uncommon to find 10 m to 30+ m widths), instead of narrow higher-grade veins.
Past Exploration on Typhoon's Aiguebelle-Goldfields Property
Over the last 6 decades the Aiguebelle-Goldfields property has received ~140 historical drill holes from a myriad of past operators, totalling ~28,570 metres. Much of the past drill holes are pre NI-43-101 rules, thus discussion of historic values by the Company is for the most-part verboten ( reliance on historic numbers for investment purposes by investors), unless brought current.
Historic numbers do however provide guidance; Typhoon is obviously in the right area to encounter quality gold values: Sixteen (16) historical drill holes on Typhoon's ground containing at least one mineralized interval with a grade above 1 g/t over more than two (2) metres were drilled mainly about 600 metres west of the Fayolle zone. Best historical results* are the following: 3.10 g/t gold over 10.2 m (hole 83-01), 2.70 g/t gold over 10.9 m (hole PA-99-01). 4.44 g/t gold over 4.0 m (hole 85-15).

* Cautionary note: Historical drill results do not meet actual best practice standards acknowledged by the National Instrument NI 43-101.They are communicated as a possible outcome. (Source: Exploration Typhon inc. Rapport technique des travaux de forage 2011 sur la propriété Aiguebelle-Goldfields, canton Aiguebelle, December 2012. A.J., Beauregard, p.geo., D. Gaudreault, ing.)
The following image shows where the majority of past drilling activity on Aiguebelle-Goldfields occurred, focused principally in one area only, without stepping-out further westward along the structures:
<== click thumbnail of past drilling to enlarge. This image was taken from Typhoon Exploration's corporate website page about the Aiguebelle-Goldfields Property where a more comprehensive summary of past work can be found.
Table 1. (above) Aiguebelle-Goldfields prior results -- All results are historical, their use should be limited as gold potential indicators.
Typhoon has since undertook a thorough revision of all existing data, integrating them into a digital platform, which allowed their reinterpretation based on, among other things, magnetic data processing by 3D inversion. This first phase provided Typhoon a top-down understanding of the Property's gold potential and revealed a gold distribution in three sub-parallel structures, inside a one-kilometre-wide corridor.
High Quality/Probability Drill Targets Lined Up Along Structures Heading Westward
The past magnetic surveys performed by Typhoon were only recently processed using new technology that provides additional insight, and by combining this magnetic data with the past drill data, exceptional targets are now lined up where there are changes in magnetic intensity of host rock occur (ideal for creating a trap for gold). Typhoon's technical team, having been involved on this property in the past, and other properties in the region for decades, and having been involved with the neighbouring Fayolle gold deposit (and related PEA), they have an improved understanding now of the timing of gold in the rocks of Aiguebelle-Goldfields and in secondary structures affecting them -- when they start to drill, confidence is high their gold hit ratio will be good. It is known now that the gold structures from Fayolle extends westward onto Typhoon's ground, and the technical team knows where these structures pass, the drill program will try to intersect this extension. Also, there are two other gold trends on the property, so Typhoon will be able to chase more than one rabbit at a time if the opportunity presents.
New Drill Program
Typhoon Exploration Inc. has announced a new Fall-2020 drill program for the Aiguebelle-Goldfields Property, see related September 2, 2020 news release "New Drilling Campaign on Aiguebelle-Goldfields", and October 28, 2020 news release "Typhoon Starting Exploration Works on Aiguebelle-Goldfields and Syenite Condor".
Drilling targets have been identified in the westward extension of mineralized structures of the Fayolle Property. The primary objective of the proposed work is to explore the lateral continuity of known mineralized zones, including that of the Fayolle deposit, and to identify possible extensions of the gold structures associated with the deposit. A first phase of 1,000 metres will aim at locating gold-bearing structures mostly above 200 metres. A second phase of 3,000 to 4,000 metres will follow. Different targets are currently evaluated inside a one-kilometre wide favourable corridor. Typhoon is currently in the process of assessing environmental conditions and planning surface access for a 5,000-meter drill program. The permit application and consultation process will continue in the coming weeks. Drilling is scheduled to begin in September.
EXPLORATION UPDATE
See December 22, 2020 news entitled "Typhoon resumes drilling on Aiguebelle-Goldfields: Presence of mineralization indicators";
Typhoon resumes drilling on Aiguebelle-Goldfields: Presence of mineralization indicators
PIEDMONT, QC, Dec. 22, 2020 /CNW Telbec/ - Typhoon Exploration Inc. (TSXV: TYP) ("Typhoon" or "the Company") completed the first part of its new drill program on the Aiguebelle-Goldfields claims block, located about 35 km north-east of Rouyn-Noranda, Abitibi (Québec). The total program includes 20 holes totalling 3,000 metres and is expected to be completed in early February 2021.
To this date, 7 holes, from 200 to 300 metre-deep each, and totalling 1928 metres, were completed in the southern portion of a single mining title of the project. The holes are distributed in three sections, spaced out by approximately 100 metres. The program aims at locating new gold-bearing structures in an area where sporadic previous drilling has demonstrated the presence of strong gold anomalies. To date, geological observations made on the core of the first three holes (AIG-20-001 to AIG-20-003) contain the following elements:
Drill hole

Section

Interval of interest

Geological description

AIG-20-001

661750

25-41 m (16 m)

Syenite dykes swarms, strongly sheared, pyritization.

171-191 m (20 m)

Sheared iron carbonate alteration zone with syenite dykes.

AIG-20-002

661650

15m-27 m (12 m)

Syenite dykes swarms, hematization with pyrite.

162-220 m (58 m)

Sheared and altered contact between ultramafic volcanics and sediments, injected by syenite dykes, variably pyritized.

AIG-20-003

661550

98-114 m (16 m)

Fault zone injected with syenite intrusions.

114-168 m (54 m)

Continuous altered syenite intrusion, fractured with pyrite dissemination.
Overall, the intersected geological context follows the contact between the Lanaudière Group sequence of ultramafic and mafic volcanic, and the Kewagama sediments Group extending southward.
The drilling is centred on the Manneville Nord Fault, where the structure is partly filled by a suite of alkaline intrusions, usually showing a red hematite alteration associated with iron carbonate and disseminated pyrite, which represents the main gold target. According to the preliminary geological description and interpretation, this structure's estimated target width of ranges between 12 and 40 metres.
Typhoon controls the exploration ground called Aiguebelle-Goldfields, eastern bounded by IAMgold Corporation's Fayolle project. Aiguebelle-Goldfields' boundary is approximately 250 metres away from the Fayolle zone. Historical drilling is located at approximately 600 metres west of the Fayolle zone. The drill plan is firstly to test the possibility to find, inside this gap, additional mineralization following the same geological trend. The drill pattern will cover three stacked gold-bearing structures previously identified by historical drilling.
"Our first evaluation of the new drill cores surprised us in many ways. Firstly, the geological context observed with hematized syenite dykes, the associated alteration, and the disseminated mineralization are all gold-favourable geological features and are well known as such in the region. They remind us of the Bachelor Lake Mine (Bonterra Resources) and the Douay project (Maple Gold Mines), where Typhoon Exploration management and geologist were respectively involved at some point," says Ghislain Morin, Typhoon's CEO.
...Click here for full copy from source
------ ------ ------
The following is some geological imagery regarding Typhoon's property that will give those with a keen eye for geology a better appreciation of matters:
Figure 4.(above) Aiguebelle-Goldfields in relation to fault structures
Figure 5.(above) Aiguebelle-Goldfields (AIG), Destorbelle Property also owned in-part by TYP, and Syenite-Condor (recently acquired 100% by TYP).
Figure 5.(above) Aiguebelle-Goldfields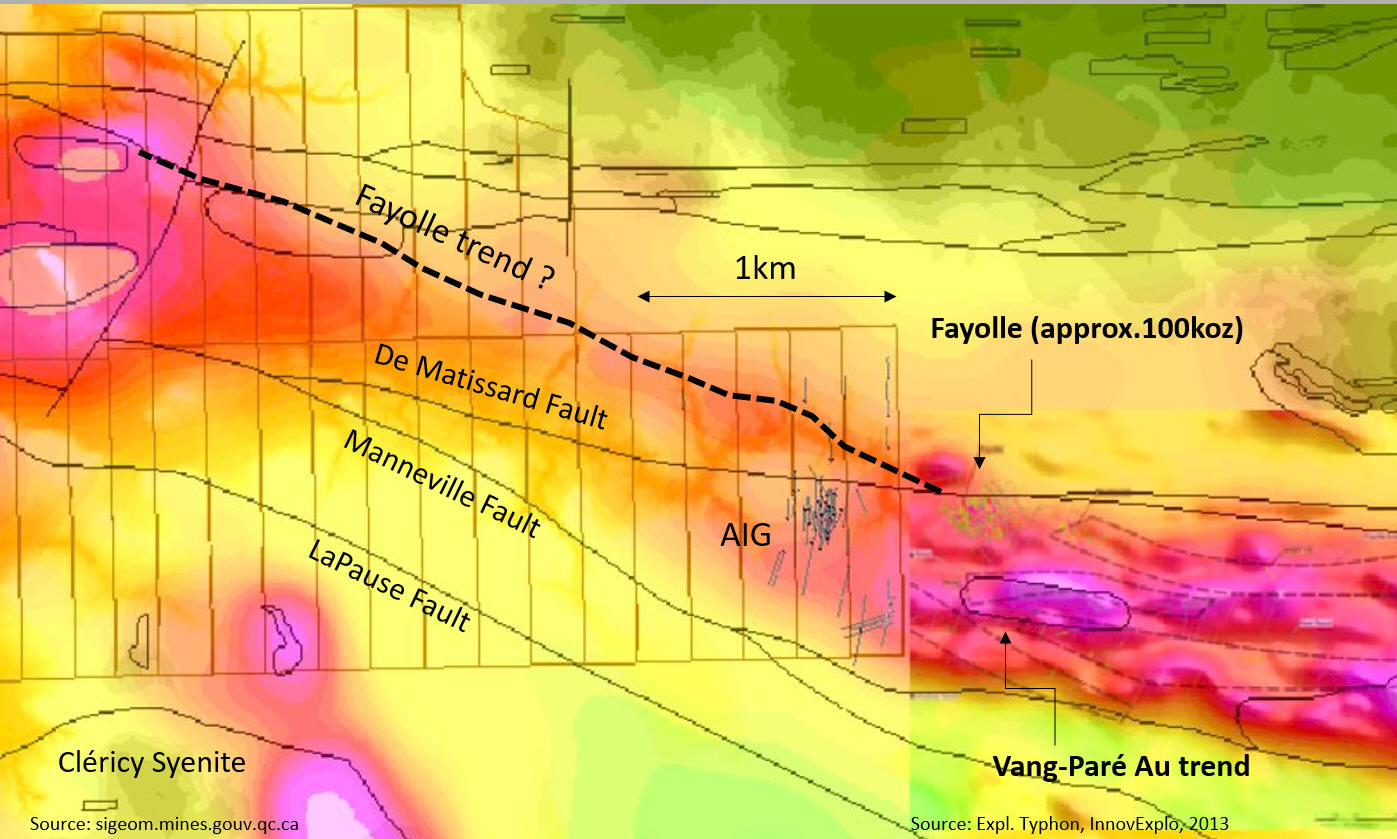 Figure 6.(above) Aiguebelle-Goldfields property with trends and faults superimposed
Figure 7.(above) Aiguebelle-Goldfields and neighbours, trends
Figure 8.(above) Aiguebelle-Goldfields
Figure 9.(above) Aiguebelle-Goldfields
Figure 10.(above) Aiguebelle-Goldfields
------ ------ ------ ------ ------ ------ ------ ------ ------

2) Syenite Condor Property, Quebec -- 100% Owned, 623 hectares
The Syenite-Condor Property is located in the Clericy Township, at about 30 km north-east of the town of Rouyn-Noranda, Québec.
Blocks found at surface on the property are understood to be frozen clay pushed up, samples graded 5.28 g/t, 3.11 g/t, 2.31 g/t, & 2.74 g/t gold. Typhoon's technical team has a good understanding of the geological occurrence, other significant gold mines which operated for decades in the area had similar occurrences, and with only 2 to 3 m of overburden on the Syenite-Condor Property the technical team believes it can readily locate the source. Typhoon just recently announced 100% ownership of the property this September-2020. It may be a little late in the season to trench, but expect early spring-2021 excitement on this front.
A mechanical shovel has been mobilized to clean to bedrock 50-metre-long trenches for channel sampling, over an area extending for about 500 metres along a strong magnetic contrast. Depending on the results, drill tests could be considered further afield.
Figure 11. (above) Location of Syenite Condor Property of Typhoon Exploration seen in yellow outline, also located directly adjacent IAMGOLD's Fayolle gold deposit.
Excerpt copy from September 17, 2020 news release entitled "Typhoon Confirms Interim Board and Acquires the "Syenite Condor" Property";
The Syenite Condor Property was the object of numerous exploration programs over the last decades in relation with the presence of a syenite intrusive body. Axe Exploration (defunct) lead its exploration in a series of low ground valley interpreted at that time as structural lineaments. An initial prospection program done in 2017 produced the discovery of the Unique 1 gold surface showing with 5 samples from outcrops returning values of 5.28 g/t, 3.11 g/t, 2.31 g/t, 2.74 g/t and 0.65 g/t. The mineralization takes the form of disseminated pyrite1. About 1.3 km east of the Unique 1 showing, an isolated and partially buried block of metric size returned 0.8 g/t in a similar host rock.

The Syenite-Condor Property is located inside the Destor-Porcupine Break, a region that extends from Timmins (Ontario) to Destor (Québec), 500 km eastward. It is evaluated that the whole Abitibi has produced 170 million ounces since 1901. The Property's location corresponds to the eastward termination of the Porcupine Break, in an area characterized by an array of regional faults known to host gold occurrences. About 30 km west of the Property, the Beattie Mines produced 1.2 M oz of gold from an underground mine between 1943 and 1950.
------ ------ ------ ------ ------ ------ ------ ------ ------