Figure 1a. (above) - Lucky Mineral's 55,000 hectares twelve Fortuna concessions (labelled Fortuna 1 thru 12) map with Shincata Gold Trend area annotated in red. Inset location map of Ecuador, and inset details of Wayka breccia zone (Feeder) Sampling, related systematic 1 m interval sample values, and view of trench in Wayka. Volcanic domes are dotted throughout and around Lucky Mineral's Fortuna project. The size of the deposits in the Andes can be really big, Lucky is seeing the type of signature one sees at the likes of Yanacocha (Peru), Loma Larga (Ecuador) & El Indio (Chile). The Wayka discovery did not exist in February, this is brand-new -- Lucky has already found a large signature at surface, it is believed the system can carry, and its just a matter of filling in the blank.
The Shincata Gold Trend was named by Lucky after the Shincata River (and basin) which runs through Lucky's property. The river basin has numerous historical workings (documented for 300+ years, likely active since Inca times), and currently hosts local artisanal alluvial and placer gold mining. Prior to Lucky's geological team, no one has found gold on the concessions outside the river area, it was unexplored prime virgin ground; Lucky's Fortuna concessions were acquired in 2018 from a private company that essentially sat on coveted prime ground for close to two decades as major discoveries were made surrounding it. The project is ripe for discovery of significance having received (prior to Lucky) no modern exploration or drilling.
Lucky Minerals is on to a potential world-class discovery at its Wayka Gold Discovery Zone
Wayka is a high sulphidation epithermal gold system (examples of such deposits that are world-class: Yanacocha, Pierina, Pueblo Viejo).


Trenching has confirmed a large system is mineralized with gold between trenches T1 and T6 (700m apart), and T12 is ~ 1.4 km from T1.


High temperature alteration footprint (advanced argilic – blue elipse on map below) more than 2 km by 1.5 km and still open in three directions. It is generally the area where most gold mineralization is localized in these type deposits.
Figure 1b. (above) -- Trench T6: Samples across 7m averaged 8.08 g/t gold, including 3m at 17.63 g/t Gold and is 700m from T1.
Figure 1c. (above) -- Size Matters, Alteration Size Comparison of some world class high sulphidation epithermal gold systems. Considering Lucky has a high temperature alteration footprint more than 1.5 km by 1.0 km and still open in three directions, excitement runs high as the Company plans a maiden drill program.
The Fortuna Gold Project lays within a tertiary volcanic belt that trends NE-SW through the property, these are volcanics which are known to hosts major epithermal gold deposits, similar trending structures intersect neighboring Fruta del Notre, Mirador, Loma Larga, El Mozo and others. Satellite imagery confirms what is understood to be a collapsed caldera proximal to the discoveries Lucky is now making.
In a stable mining-friendly jurisdiction, ripe with prolific supra regional structures that provide great potential for mineralization:
Figure 2. (above) - Ecuador maps, left; listing major mining companies active in country, right; showing major structures & faults, major deposits, and location of Fortuna Project.
Lucky's Fortuna concessions are located in a strategic land position, within 80 km from numerous gold and copper deposits:

Lundin Gold – Fruta Del Norte- M&I 4.82M oz Au, 6.33 M oz Ag
Lumina Gold – Cangrejos Deposit – Ind. 8.91 M oz Au,10.57 M oz Ag, .12% Cu
Solaris Resources - Warintza – Presently conducting 40,000 M drill program. Based on historic drilling - 124 MT Inferred 0.70% CuEq2 (0.56% Cu, 0.03% Mo and 0.06 g/t Au)
Dundee Precious Metals Inc. - Loma Larga Deposit - M&I 2.91 Million oz Au, 19.22 M oz Ag, .22% Cu
Enami - EP – Gaby-Papa Grande- Ind. 6.98 M oz Au, .09% Cu
EcuaCorriente – El Mirador- M&I 2.81 M oz Au, 21.11 M oz Ag, .61% Cu Ag

Figure 3. (right) - Map of Lucky Minerals' Fortuna concessions in relation to other area miners [click image to enlarge as a readable PDF].
Federal elections in Ecuador earlier this year saw the election of a business-friendly administration that ran on a pro-mining & pro-sustainability platform. Ecuador is characterized by a positive geopolitical environment and has new tax regulatory reforms that have enhanced investment. Since 2015, 28+ internationally renowned mining companies, including BHP Billiton, FMG, Anglo, Newcrest and Codelco, have established entities in Ecuador (spending $billions on exploration and construction costs). If there is any question about whether Ecuador is open for mining business -- the question was answered by two nearby world-class mines coming to production recently; Lundin Gold's Fruta del Norte Gold Project came into commercial production in February 2020, and Mirador Copper-Gold Project started production this July-2021 (owned and operated by Ecuacorriente, a subsidiary of state-owned Chinese consortium CRCC-Tongguan). Locally, the community is supportive of Lucky Minerals exploration efforts -- Lucky Minerals is proactive in ensuring smooth relationships with people that live in the area; hiring locally, trying to do the best for the communities, and trying to have a positive impact.
------ ------ ------ ------ ------ ------ ------ ------ ------

Below is a look at three large-scale hydrothermal systems with gold potential that Lucky is exploring; 1) Wayka (epithermal) which is the main focus of exploration efforts, 2) Macuche (mesothermal), and 3) El Garo (epithermal) project area, followed by a listing of recent news releases, and an overview of Lucky's management & governance team.
1) Wayka (epithermal) project area - A gold bearing high-sulfidation epithermal system in the Shincata Gold Trend on Fortuna
[Readers please note: The following intro copy is from a slightly dated synopsis, the footprint of alteration is a larger now -- we are working on getting the latest corporate presentation and updating the information into this story -- check back soon].
Wayka lies along an elevated ridge that trends northeast with elevations ranging from approximately 3,600 meters to 3,700 meters above sea level and is bound to the East by the El Buitre Porphyry and to the West by the Emma Porphyry. Lucky's exploration team has continued with geological mapping and sampling at Wayka. Terraspec analyses of rock samples taken from the southern zone of Wayka has outlined an area of advanced argillic alteration, the higher temperature alteration minerals, with outcrops of vuggy silica that measures approximately 800 meters by 1,000 meters and remains open to the south.
● Large area with vuggy silica, alunite and clay alteration in rhyolite (purple) typical of high sulfidation systems identified.
● Anomalous gold bearing alteration area of 2.2 km x 1.0 km thus far.
● Alteration system remains open.
● Current work stepping out, assays pending.
● Field work to determine size of system.
● Mapping & Terraspec analysis of rocks and soils.
Figure 4. (above) - View of Wayka looking SE with a trench location highlighted & Outcrop Geology Map (from June-2021 -- this is a rapidly developing story with teams in the field). Each area coloured in purple (on the map image above - click here to see detailed PDF version) is mainly rhyolite rocks, which are the best host rocks for epithermal because they are very porous and conducive to collecting gold laden fluids that came up. Where the geological team is operating there are no glaciers, no snow-caps, it is fairly high up and there is a fair amount of grass cover -- Wayka averages ~15% outcropping on surface and overburden areas are generally not deep at all (often only a few cm), allowing the geological team to trace (map and sample) mineralization along surface. Lucky's geological team have dug and are actively digging multiple trenches in various locations and systematically sampling at 1 m intervals ('systematic 1 m sampling' is less biased and delivers better representation of what one could expect to mine). The trench seen in the image above (along the ridge) is ~3 km from the edge of a collapsed caldera which has a radius of ~5 km.
Recent Exploration Highlights:
● November 18, 2021 "Trench T-14 Averages 8.02 g/t Gold Across 9 Metres at Wayka"
● November 9, 2021 "Systematic Sampling Along Trenches T-5 and T-6 Averages 1.67 g/t Gold over 61 Metres at Wayka";
Figure 5-A1 (above) -- Lucky Minerals' Country Manager, Santiago Yepez at Trench T-6 showing continuous channel sampling done with a rock saw; on the left are early exploration panel samples.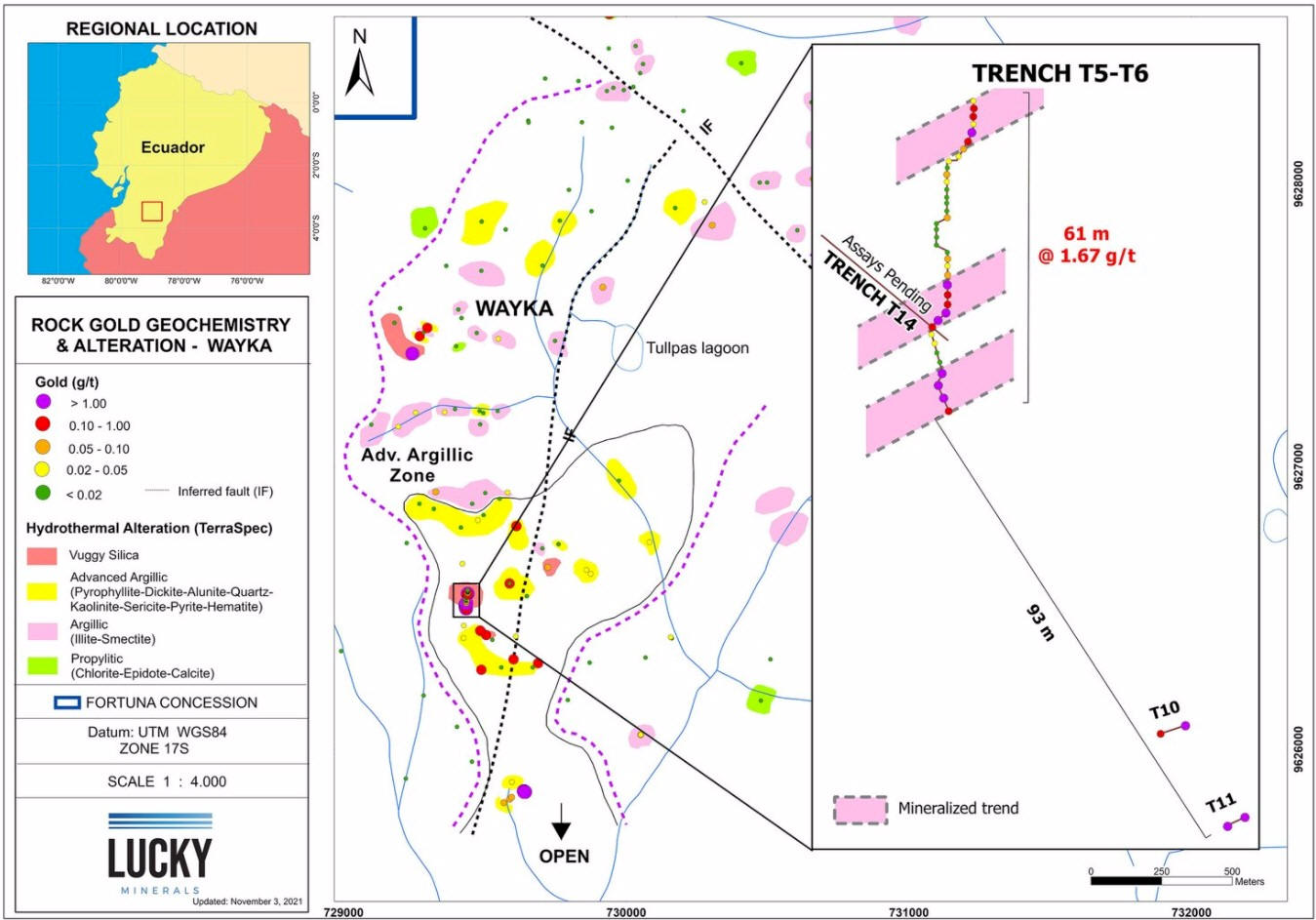 Figure 5 A-2 (above) -- Trench location map. The combination of trenches T-5 and T-6 in a north-south direction shows three distinct strongly silicified structurally controlled mineralized trends, which are interpreted to be feeder zones.
● October 25, 2021 "Lucky Minerals Expands Mineralization at Surface 700 Metres to the North of Trench T-6 with up to 1.21 g/t Gold over 10 Metres in Trench T-12"
● October 7, 2021 "Lucky Minerals Expands Mineralization at Surface Near Trench T-1 and Engages Renmark Financial Communications Inc."
● July 30, 2021 "Lucky Minerals Samples 8.08 g/t Gold Across 7.0 m Including 17.63 g/T Gold Across 3.0 m at Wayka"; Excerpt: Wayka –Systematic sampling across 7.0 meters identifies another potential feeder with 3.0 meters averaging 17.63 g/t gold. A rhyolite outcrop (Trench T-6) 700 meters north of the previously announced 4 meter trench (Trench T-1) which averaged 3.03 g/t gold (see News Release dated July 12, 2021), was sampled across 7 meters and returned an average of 8.08 g/t gold. With the last 3 samples (262957, 262959 & 262960) returning an average of 17.63 g/t gold across 3 meters and sample 262959 returning 26.50 g/t gold.
Figure 5a. (above) - Wayka – View looking south into Trench T-1, TrenchT-5 and Trench T-6. Also seen above is the Table for Trench 6 from July 30, 2021 news release.
------ ------ ------ ------ ------ ------ ------ ------ ------
● July 12, 2021 - Lucky Minerals Systematic Sampling of Outcrop Averages 3.06 g/T Gold OVer 4.0 m at Wayka; Excerpt: Systematic sampling has returned up to 5.87 g/t gold with an average of 3.06 g/t over 4,0 metres.. ...Click here to read more from source.
Figure 5. (above) - Feeder Zone at Wayka (from July 12, 2021 news release) - A total of 3 samples were taken from this "feeder" zone which is mostly covered by topsoil and grasses. Also, a wall rock sample of clay altered rhyolite was sampled. This feeder has now been followed to at least ~30m, it trends east to west.
Figure 6a. (above) - Wayka Rock Gold Geochemistry & Alteration. The generated red and yellow are the vuggy silica and advanced argillic found at surface, considering the proximity to the 5 km radius collapsed caldera, this is the mineralization where one would expect to see if given this type of geological event.
| | | | |
| --- | --- | --- | --- |
| Fig. 6b. (above) - Sample 262 916 from 1.0m wide Breccia Zone at Wayka. | Fig. 6c. (above) - Sample 261586 from Wayka - Vuggy Silica | Fig. 6d. (above) - Sample 262670 Altered rhyolite with vuggy quartz from Wayka - 2.90 g/T gold. | Fig. 6e. (above) - Sample of Vuggy Silica, with banded gray quartz and fine disseminated pyrite from Wayka. |
Geophysics coincide with surface gold bearing rhyolites
Figure 7. (above) - Geophysics with mag low anomaly noted (interpreted fault) - The mag low anomaly trends northeast ~3 km. 1.5 km appears to coincide with the surface alteration and mineralization identified to date. Lucky's geological team will continue to extend the surface alteration along the interpreted fault to the north and south. The interpretation of the mag low extends to the limit of the current geophysical data both to the north and the south (3km).
Background on how geophysics seen above (from First Quantum) led to the discovery of the Sinchata Gold Trend: Back in 2020 Lucky gave First Quantum an option to spend $1 million looking for copper targets, in and around El Buitre on Fortuna. First Quantum spent $1 million looking and in the end determined that El Buitre was too light of a copper target and was more of a molybdenum porphyry target, which was not their business model and thus they moved-on. In the process they performed magnetics from El Buitre (in the east) to Emma (in the west), they also walked Wayka gathering data for evidence of copper -- Lucky was the beneficiary of all that data and lab-work; Lucky processed its own interpretation and it was evident they needed to look in that area for gold. So last year Lucky took one surface sample in the northern part of Wayka that returned over 1 g/T in rhyolite proximal the mag-low interpreted fault.
New geophysics are in the immediate plans for Lucky Minerals; First Quantum did 200 m line spacings, whereas 50 m spacings are needed to best optimize (position and orientate) planned drill holes. The luxury Lucky Minerals now has is that it has exposed one of the gold laden feeders, and has its related digital fingerprint to find more.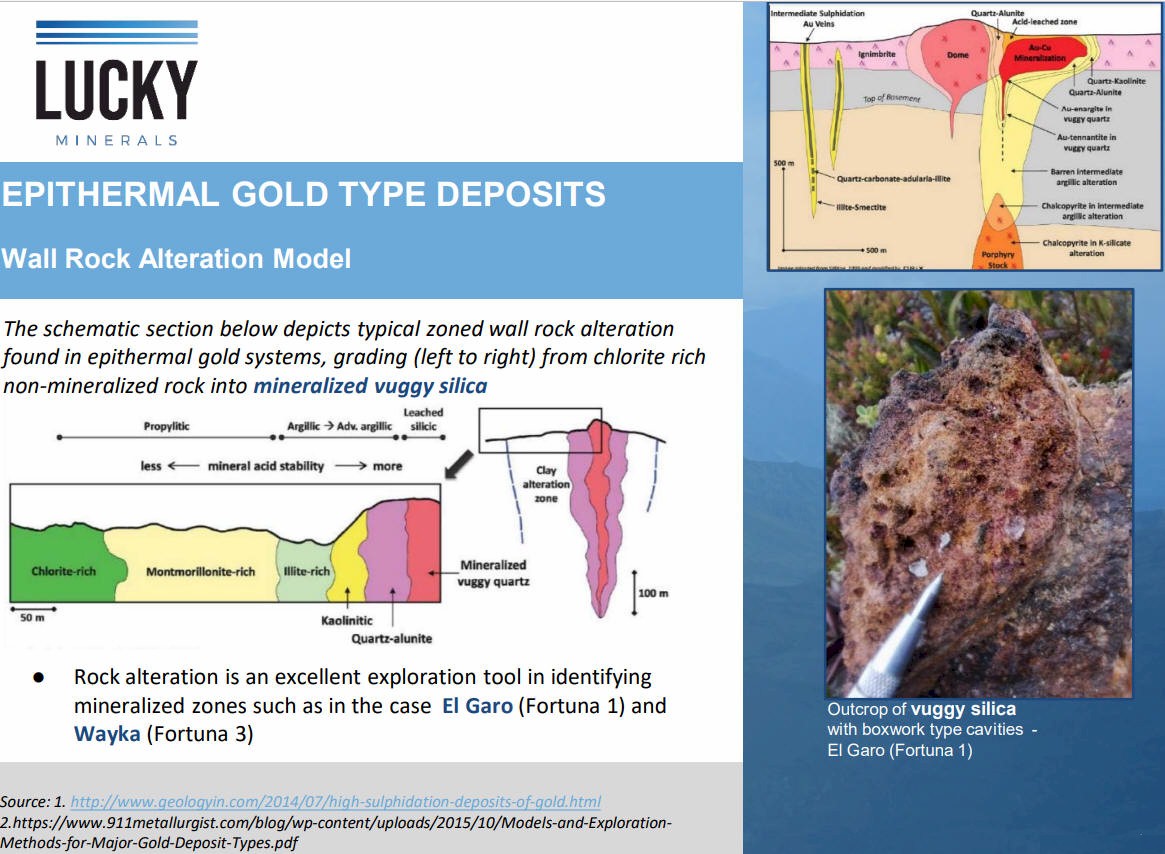 Figure 8. (above) - Idealized wall rock alteration model of epithermal gold type deposits (sourced from Lucky Mineral's corporate presentation). Lucky is advancing two epithermal project areas this 2021; Wayka and El Garo. The tool used for zeroing in on these epithermal systems is alteration mapping, Lucky's geological team is able to determine the minerals, temperature (when formed), and acidity -- that is what gave the team the hot-spot feeder zone at Wayka. In a volcanic event highly acidic fumes and liquids come up thru a feeder zone and the acids digest into the volcanic rock (creating a sponge effect) and then the space is occupied by fluids that carry the gold. In a typical deposit, the high-temperature advance argillic is found in a radius of ~150 m to 250 m from the feeder -- so when you find the advance argillic you are not far from the feeder. Teams in the field now are bringing back arsenals of data daily and they have found lots of advanced argillic rock -- in-fact one zone is over 1.5 km by 20 m wide of the higher temperature material.
12 Trenches have been announced to date at the Wayka Zone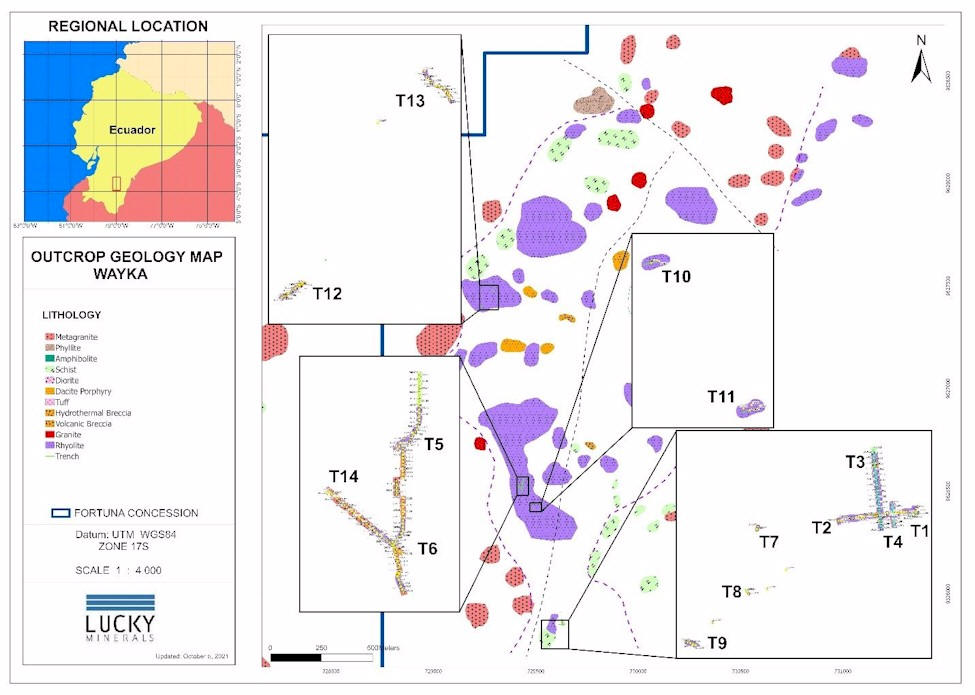 Figure 8b. (above) 12 Trenches announced to date at Wayka (source October 25, 2021 news release where results from 10 - 12 were announced).
Figure 8c. Location of T1 - T9 (source October 7, 2021 news release <== click to see details of grades).
------ ------ ------ ------ ------ ------ ------ ------ ------
2) Macuche (mesothermal) gold project area - Macuche is one of the Sherman area zones & is a bulk tonnage target. Macuche has the potential to be huge because the stockwork veining found and trenched at surface is kilometres apart; the heat engine (what is under it) could be significant in size, the volumes of what is underneath has very real potential to be many millions of ounces.
Sherman is comprised of Zones 1 & 2 and Macuche
Large area in Fortuna 4 -(5.5 km x 4.5 km) -6.6 km southwest of Emma.


3 zones have been identified showing significant potential for large tonnage mineralization.


Zones 1 & 2 are characterized by stockwork quartz veins (1 mm to 3 cm wide) disseminated pyrite & iron oxides hosted in meta-granites (up to 0.477 g/t gold).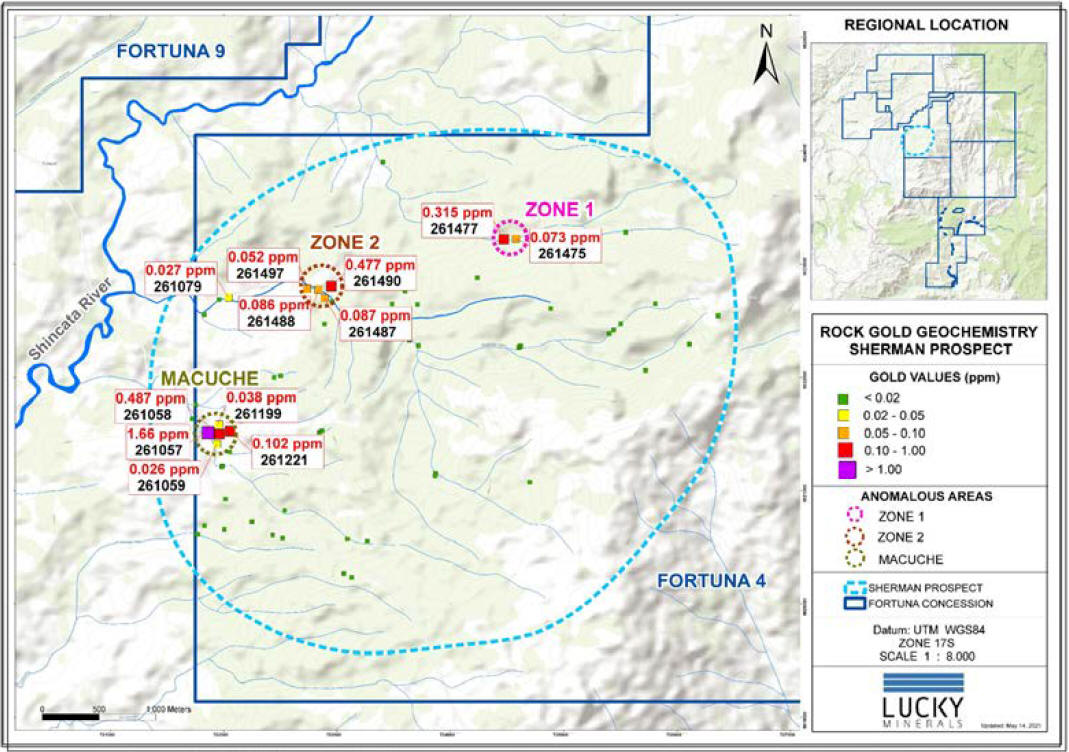 Figure 9. (above) - Sample & Assay Map of location of anomalous zones 1,2 & 3 -Zone 3 is now referred to as MACUCHE.
Macuche is in located proximal where two regional structures intersect. Lucky walked the ground last year and started to find anomalous gold. The material at Macuche is unaltered metagranite, and the quartz veins/veinlets have mineralization, potentially in a stockwork system (like Fort Knox Mine in Alaska where it is low-grade disseminated but in a stockwork system).
Figure 10. (above) - Macuche sample of meta-granite with quartz veinlets -0.477 g/t gold) -Panel chip sample (.50 m x .50 m) -stockwork quartz (veins) < 3 cm in fractures.

● At first a 30 m by 30 m area was exposed and 9 samples gave the following table:
Table 2 (above) - Initial samples from Macuche
Latest Exploration News regarding Macuche/Sherman:
● June 24, 2021 - Lucky Minerals Receives New Assays for Machuche and Trench Samples Assay 0.33 g/T Gold over 20.0 m; A 20-meter-long hand dug trench returned an average of 0.33 g/t gold from systematic 1.0 m x 0.50 m panel samples. Lucky's CEO, François Perron stated: "Our recent field work at Macuche was a follow up on an area that had gold values of interest which we have previously announced. The goal was to understand the continuity of the stockwork system. These results indicate that the stockwork system is pervasive over 20 metres and the potential for bulk tonnage is very real. The mineralization in the trench remains open both to the east and to the west. More work needs to be done in the area to understand both the scale and controls of the veining. Local prospecting will be undertaken in order to follow up on some historical artisanal pits that have been located nearby."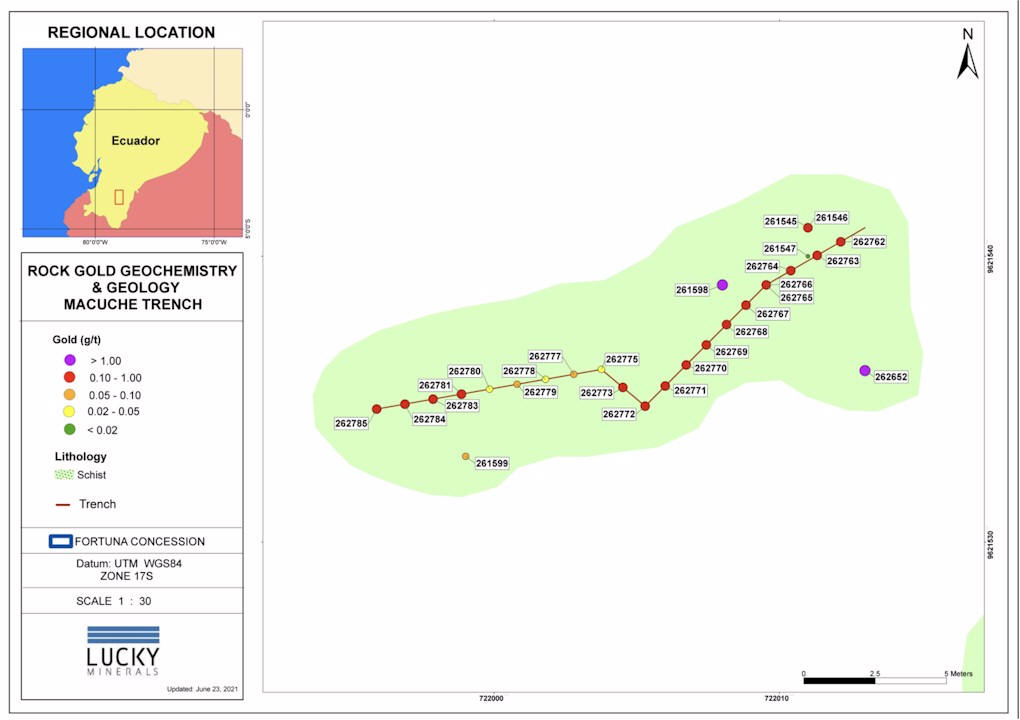 Figure 11. (above) - Rock gold geochemistry and geology Macuche trench. For safety concerns this first trench was stopped at 20 m after dirt would have piled up thereafter too high without braces.
Table 3 (above) - Results from 20 m trench June 24, 2021 press release.
Lucky's geological team has identified over 20 historical pits (artisnal workings) that were worked over the last 100 years or so. In-fact, one of the helpers on site use to come to this area with his grandfather when he was a child. These pits are from 1 - 2 metres in depth. The pits are ~200 m away from the first trench seen above. Lucky has taken samples from some pits and assays are pending.
Exploration Plans for Macuche:
● Prospecting for more outcrop exposure
● Trenching within the exposed area
● Geophysics
● Drilling
| | | |
| --- | --- | --- |
| Figure 12a. (above) - Sample # 261057 - Weathered schistose outcrop sample returned 1.66 g/t gold (Sherman) in 2020. | Figure 12b. (above) - Sample # 262652 0.80 m x 0.80 m 1.985 g/t gold - strong Fe-oxide stains with stockwork silica veinlets (1 mm up to 15 cm wide). | Figure 12c. (above) - Sample # 261598 - 2.19 g/t gold - millimeter size stockwork veinlets of quartz & pyrite - host rock is altered shist with phylic alteration. |
------ ------ ------ ------ ------ ------ ------ ------ ------
3) El Garo (epithermal) gold project area
● Large alteration area(2.0 km x 1.0 km).


● Characterized by typical alteration and rock types found in epithermal gold systems -vuggy silica, hydrothermal breccias, clays, alunite and jarosite.


● Little outcrop leads to current soil grid sampling program over an area of approx. 5.2 km x 2.0 km.

Figure 13. (right) - El Garo Prospect Outcrop Geology and Alteration Map. Lucky has discovered low temperature alteration materials, they don't know where the center is yet, but the geological team suspects the higher temperature alteration material is buried beneath the low.

Lucky is doing a soil sample grid. When the grid is finished the geological team will do statistical analysis; the feeders often have a signature of pathfinder elements that will provide direction.

Exploration plans:

● Soil sampling grid and analysis - ~1040 samples to be taken.

● Geophysics

● Drill; proof of concept to start.

Figure 14. (above) hydrothermal breccia with silica flooding, with presence of alunite and limonite (El Garo).
------ ------ ------ ------ ------ ------ ------ ------ ------