Feature article December 15, 2016:
WestKam Gold Corp. initiates 10,000t bulk sample, last two bulk samples averaged 26.5 g/T and 16.28 g/T Gold
WestKam Gold Corp.

(TSX-V: WKG) (US: ERRCF) (FSE: OUH2)
WKG.V is due for near-term upside share price revaluation to reflect the large inherent value of gold at the Company's 100%-owned Bonaparte Gold Project, 50 km NW of Kamloops BC;
Permitted for 10,000 tonne bulk sample using existing decline, through the same vein system that yielded 26.5 g/T Gold from bulk sample in 1994 (on 3,700t), and 16.5 g/T from bulk sample in 2010 (on 364.6 dry short tons).

The Bonapart Gold Project hosts a series of well-developed shear/fracture zones hosting near-surface quartz veins. Drilling has encountered exceptionally high-grade gold intersections in the 'Discovery Zone'.

Additional info from drilling indicates a minimum 200 meter extension in width to the regional structure, with more high-grade veins expected to lie within.

Highly prospective for new discovery on new 'Cooler Creek' high-grade gold zone along trend.

Underexplored 2,216 hectares land package: Government report indicates the property has potential for large copper-gold porphyry (similar to what was demonstrated at nearby Highland Valley of Teck and New Afton Mine of New Gold).

Stable mining-friendly jurisdiction, experienced management team, and skilled technical leadership.
Valuation Commentary: WestKam Gold Corp. (TSX-V: WKG) (US Listing: ERRCF) (Frankfurt: OUH2) is at the initial stages of a 10,000 tonne bulk sample on its 100%-owned Bonaparte Gold Project, located 50 km northwest of Kamloops in British Columbia, Canada. This bulk sample is proximal the last two bulk samples which averaged 26.5 g/T and 16.28 g/T Gold, testimony to the exceptionally high-grades contained within a series of well-developed shear/fracture zones hosting near-surface quartz veins. WKG.V is in talks with Kinross Gold Corporation regarding a milling facility for the bulk sample; Kinross' nearby Kettle River mill facility is the same facility that processed a total of 364.6 dry short tons from the same deposit of mineralized quartz vein material averaging 16.28 g/T Gold back in 2010; we anticipate we'll be seeing high-grade material, comparable to what was yielded in past bulk samples, again being processed at Kinross' Kettle River mill facility before the end of Q3-2016, and we expect WKG.V to have some spectacular new releases over the coming months. More importantly, we see the big-picture unfolding quickly as the development cuts a 10 by 12 foot drift through a series of high-grade veins and stockwork (running in between), affirming in the process the findings of a BCGS report that indicates the property has potential for large copper-gold porphyry, similar in nature as to what has been demonstrated at nearby Highland Valley Mine (Teck) and New Afton Mine (New Gold).
WestKam Gold Corp. has ~183.9 million shares outstanding. The Company is fully financed (over subscribed in its last financing) to accomplish all near-term objectives, and shares of WKG.V are poised for upside revaluation as the inherent value and accomplishments are appreciated by the market.
Figure 1. (below) Key veins discovered to date, inset of underground workings and drill core sample
Work on the property first commenced in 1985 following the discovery of high-grade gold in quartz at surface. 127 diamond drill holes in the 'Discovery Zone' alone, totaling 7,436.6 m, have encountered multiple high-grade drill intersections for gold (e.g. 113.70 g/t over 0.87 m, 142.97 g/T over 1.2 m, 321.22 g/T over 0.56 m, 115.51 g/t over 1.07 m), revealing a series of gold-laden near-surface quartz veins. The high-grade vein zones average two-to-three meters in thickness and appear to be located 12 to 15 meters apart within a larger regional structure. Exploration to date indicates the zones are open to expansion in all directions, and a much larger target zone, located east of the original Discovery Zone, was identified in the 2015 drill program.
Bulk Sampling
#1) Averaged 26.5 g/T Gold -- In 1994 the Discovery Zone was open pit mined on the Grey Jay/Crow Vein system. A total of 3,700 metric tons of mineralized quartz vein material was shipped to the Cominco Smelter in Trail BC, yielding ~98kg (3,160 oz Au) of gold. The bulk sample was halted as they were deep in the pit and needed to go underground. The shipped ore to the smelter graded 26.5 g/T Au.
Mining MarketWatch Journal notes very encouraging observation from past operator at the time of the first bulk sampling in 1994; the material which appeared waste at first, as visibly not part of the main vein, when tested was running ~7 g/T gold (historic, predates NI43-101) for the ~100 m section they needed to chew through to get to the high-grade vein. That material was left behind and only the higher-grading hot-spot vein material was transported (thus the 26.5 g/T Gold average yield), however this observation makes the next bulk sample, setting-up for this 2016, extremely exciting as it is these large swaths of stockwork material running full of stringers found in between the main quartz veins that will determine what may become the next big mine in B.C.
#2) Averaged 16.28 g/T Gold -- In 2010 a second bulk sample shipment from the Grey Jay / Crow vein system was trucked to the Kinross Mill located in Washington State for processing. A total of 364.6 dry short tons of mineralized quartz vein material averaging 0.475 oz/ton Au were processed yielding 161.95 troy ounces of gold at a recovery rate of 93.51%.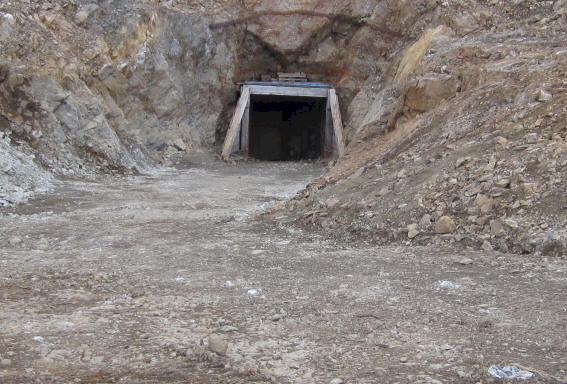 Fig. 2. (above) Entrance to portal box cut and ramp road ready to go for bulk sampling.
#3) The current 10,000t Bulk Sampling
WKG.V has a green light to go and unfold the story without diluting the share structure.
This Q2-2016, WestKam received an underground Bulk Sample Permit from the BC Ministry of Energy and Mines, allowing for the extraction of 10,000 tonnes of ore from the Bonaparte Project. The permitted design of the Bulk Sample program includes extension of the existing decline approximately 245m through to the Grey Jay / Crow vein system.
The plan: WKG.V collared the portal in August and went underground, running at ~15% decline, and from that 100 m point WKG.V plans to drift another ~245 m of development, cross-sectioning all the veins on the property, going through the ore body and seeing how the whole picture looks, and transporting high-grade vein material to the mill. As these are the same veins, there is no reason not to expect grades similar in nature to what was encountered on the first two bulk samples, and we expect WKG.V to come out well ahead financially once completed (the 1994 bulk sample yielded over 3,000 oz gold and was only 3,700 tonnes, this bulk sample should be 10,000 tonnes). There is at least one known blow-out/jewelry box section in the Crow/Grey Jay vein that WKG.V will exploit along the way, and all the other veins have never been mined. By placing vent raises (ventilation shafts to surface) through high-grade vein structures and areas full of stringers, like the Nutcracker vein, the Company will maximize yield.
As exciting are the riches of this bulk sample, the more important and lucrative prospect for shareholders will be the development the bulk sample provides and story that unfolds that can shed light on the bigger picture and prove up the prospect of this becoming the next big mine in BC, attracting major area stakeholders/potential suitors and popping the share price. The bulk sample should pay for the development and leave several millions of extra dollars in the Company's treasury to take the project to another level.
The Company is aggressively moving forward;
Figure 3. (above) - Two boom jumbo procured to make quick work of underground development

Figure 4. (above) - Facilities

Figure 5. (above) - Upgraded Security

The Company provided an update on the progress of the 10,000 t bulk sample:

The following is from the September 7, 2016 press release entitled "WestKam Reports Steady Progress on Bonaparte Bulk Sample";

WestKam Gold Corp. has provided a progress report on bulk sampling at the Company's 100%-owned Bonaparte Gold Project near Kamloops, British Columbia. As of September 1, 2016, the underground decline had reached 156 meters and was cross-cutting the Eagle/Chickadee vein system. The vein is currently exposed on the working face. As of the date of this release, there are 200 meters of decline development remaining to reach the bulk sample zone currently scheduled to be intersected by late October 2016.


"We continue to make steady progress at Bonaparte," said WestKam President and CEO Matt Wayrynen. "We've had our share of challenges along the way, which we expected. I'm very pleased with how the crews have responded to each challenge and maintained the program's momentum."
Site Commissioning and Underground Rehabilitation

From July 12th to the 27th, the company completed a significant site commissioning and underground ramp rehabilitation program. During this period, 120 metres of the existing decline was scaled, inspected for rock and ground support conditions and rehabilitated to a safe working standard. As required, four new safety bays were emplaced and additional ground support was installed as per the company's Ground Support Plan. The pre-existing camp facility was upgraded and brought back into service. The main and ancillary generators were installed which support the camp and underground equipment including a two boom jumbo, compressed air lines, ventilation and pumps.

Sampling for Metal Leaching and Acid Rock Drainage

Initial sampling of the host granodiorite for metal leaching and acid rock drainage characteristics has also been completed. These initial results indicate that the host/waste rock characteristics are non-acid generating. Ongoing acid base accounting (ABA) and metal leaching (ML) characteristics of the deposit will continue as the decline advances.

Sampling of the Eagle/Chickadee Vein System

Historically, the Eagle/Chickadee vein system was exposed through surface trenching over a combined strike length of 75 meters with an average width of 1.42 meters. Mineralization consisting of pyrite, pyrrhotite and chalcopyrite was locally noted with total sulphides up to 10% being reported within the vein. Historical assays reported grab sample results from trace to 13.8gm Au (0.404 ounces per ton). Mapping indicates the vein has a true thickness of 30cm to 40cm striking near north at 350 degree azimuth, dipping 35 degrees to the east. Alteration along the vein footwall over 20cm to 60cm consists of strong chlorite + pyrite mineralization while the hanging wall alteration exposes weak chlorite + pyrite alteration over 1cm to 3cm. Visible sulphides within the vein consist of 5-20% blebby to stringer pyrite, 1-2% chalcopyrite and 1% pyrrhotite. Near vertical north -south trending shear structures are noted on the working face exhibiting sub meter vein displacements. The Eagle/Chickadee vein is being sampled by both channel and panel sample methods to determine the optimum sampling system. Samples are currently in for assay and will be reported once all assays have been received.

Bulk Sample Target

The current bulk sample target is the down dip extension of gold mineralization exposed in historical surface trenches and is the site of two historical surface bulk sample programs. In 1994 a total of 3700 metric tons of quartz vein material was shipped to the Cominco Smelter in Trail yielding 98kg (3,160 oz Au) of gold at a grade of 26.5 gm/tonne gold. A second bulk sample program was completed in 2010 where 364.6 dry short tons of mineralized quartz vein were shipped to the Kinross mill in Washington State. The 364.6 dry short ton shipment averaged 0.475 ounce per ton gold yielding 161.95 troy ounces of gold at a recovery rate of 93.51%.
...click here for full copy of Company update from source
The following is copy of WestKam's CEO September 30th, 2016 update to shareholders:
The 2016 bulk sample program continues to move forward, with crews making improved progress each day towards the target zone Grey Jay/Crow vein system. There have been setbacks, of course. Start-ups are never easy, with equipment breakdowns and other issues that are always expected when you begin an underground project. However, we have worked through these challenges while establishing a safe, efficient and well-staffed crew at the Bonaparte camp with the required equipment and support.

On my latest site visit I was quite impressed with the efficiency of our crews, which are now working two shifts per day. We have roughly 10 full time people on site, including underground miners, mechanics, geologists, engineer and camp support staff. It's a busy place with lots of enthusiasm, and morale has come along with each positive development.

Moving Towards the Grey Jay / Crow Vein System
As of late September, including this year's progress since late July, the decline had progressed approximately 200 metres of the initially laid out 360-meter plan. Roughly 160 meters of tunnel are remaining to hit the target zone, the Grey Jay / Crow Vein System, also known as the "Jewel Box" which was the source of the historically produced 1994 bulk sample of 3,700 metric tonnes. We expect to reach this same vein structure sometime in mid-November, down dip of the pit where that bulk sample yielded 3,160 ounces of payable gold from Teck Cominco's Smelter at Trail. Once intersected, the plan is to further define its extents with lateral cross cuts on strike. Other minor veins have been intersected along the decline at expected intervals, confirming dip continuities of other quartz veins and delivering a positive outcome thus far. We will report on further progress soon.

As always, your support of the company is greatly appreciated. I welcome your questions and comments
at any time.

Matt Wayrynen, President & CEO
WestKam Gold Corp.
Matt@westkamgold.com
604.682.3701
...Click here to view full copy from source
------ ------ ------ ------ ------ ------
Discovery Zone Cu-Au Porphyry Target Extended - The known 'Discovery Zone' area appears to be only the tip of the iceberg. IP, magnetic, and geochemical surveys have revealed a cornucopia of attractive drill targets and affirm the findings of a BCGS report that indicates the property has potential for large copper-gold porphyry.
Figure 6. (above) - Annotated map showing select IP and magnetic geophysical survey anomalies.

Volterra 3D IP and ground magnetic surveys have substantially extended the strike length of the high-grade Discovery gold zone trend. The extent of the zone's chargeability and resistivity anomalies has now been traced 1.2 kms from the Discovery Zone to the south-southeast, and the zone remains open. Several parallel features of similar chargeability and resistivity signatures have also been identified. Additionally, southwest of the Discovery Zone is a large magnetic anomaly comprised of extreme highs and lows with coincident IP chargeability responses under a younger basalt cap. These results suggested potential for a multi-phase intrusive.

The New 'Cooler Creek' Zone
Figure 7. (above) - Annotated map showing select magnetic geophysical survey anomalies superimposed on an outline of the geochemical trend. The Cooler Creek Canyon has an area of resistivity and chargeability anomalies and also contains part of the 2km long Cu-Au-Mo geochemical trend
A seven-hole, 583.22 metre, drill program carried out in the fall of 2015, discovered a new vein ~450 metres east of the Crow/Grey Jay/Owl veins of the Discovery Zone. This new vein discovery at 'Cooler Creek' from DDH-15-05 (see November 16, 2015 News Release "Assaying 0.253 oz/t Gold, 38.4 g/t Silver, 0.33% Copper and 28.6 g/t Tellurium, over 1.0 meter") lies within an anomalous IP resistivity, chargeability and Au/Cu geochemical trend which extends 1.2 kms to the south-southeast and is open both northward and southward. WKG.V has plans to drill and expand upon this new discovery vein.
WKG.V shareholders are in for an exciting second half of 2016 as the development from the 10,000t bulk sampling of the Discovery Zone is likely to bring insight and discovery that has the potential to catapult the Company's share price. Below is expanded insight on WestKam Gold Corp.'s Bonaparte Gold-Copper Property.