Fig. 3. (above) - Location map. The Bachelor Mine is increasingly being viewed as a coveted strategic asset being the only mill within 200km in a gold-rich district. Quebec is unanimously agreed in the mining community to be a stable, mining friendly region and is ranked as a top-tier jurisdiction by the Fraser Institute. Metanor benefits from low hydro-electric costs, is not affected by oil prices, and it has a stable workforce. The Bachelor Gold Mill complex is the only mill within a 100 km radius from Desmaraisville and the possibility exists to either custom mill ore from numerous surrounding gold deposits or acquire additional gold deposits. Shown in the inset (above right) is a sampling of known smaller gold deposits that warrant attention.
View of the Bachelor/Hewfran underground mine:
Figure 4 (above) -- Bachelor Gold Property Mine Claim blocks (Bachelor & Hewfran), Longitudinal Section Facing North; Section A - A. Both claim blocks belong 100% to Metnaor, however historically they had different ownership and were not explored to their potential. Metanor's Bachelor mine was built alongside a pluton discovered on its property.
Metanor originally acquired 100% interest in the past-producing Bachelor mine and mill property in 2006 with a plan to refurbish the mill and infrastructure to restart mining. Metanor originally financed the sinking of the shaft and other improvements by entering into a streaming agreement with Sandstorm; MTO is able to sell 80% of its Bachelor Mine sourced gold at spot prices with the balance sold to Sandstorm as per gold participation agreement.
No shortage of gold at Bachelor/Hewfran: Recent drilling results continue to demonstrate, in-part, Metanor's ability to readily extend the mineable life of Bachelor, similar to how other successful area miners have operated (and several continue to this date) -- typically lining up a couple years of initial quality mineralized material but remaining operational for many decades, adding as they go. The Company is building serious new ounces at Bachelor (e.g. see latest February 2, 2017 news release entitled "Metanor Intersects 9.6 g/t Au Over 7.6 m at Bachelor Mine" & January 12, 2017 "Metanor Intersects 8.6 g/t Au Over 13.9 m at Bachelor Mine" & November 16, 2016 "Metanor Intersects 13.1 g/t Au Over 3.8 m at Bachelor Mine", and October 6, 2016 "Metanor Intersects 12.0 g/t Au Over 3.9 M in a New Sector of the Bachelor Mine"). The shaft at the Bachelor Gold Mine has been sunk to 2,400 feet so as to access known resources at that level, however it is believed the gold runs much deeper and Metanor is in a position to identify 1.5+ million ounces going forward. The two main veins at the Bachelor Gold Mine run parallel and are 75 feet apart at an 80 degree angle. Greenstone belts run deep, there are mines at 8,000 – 10,000+ feet such as area miners Aur Resources (now Teck Cominco), Agnico-Eagle and Sigma. The gold grade at the Bachelor property increases at depth and the strike is open in all directions at the 2,400 foot mark.
The best place to find a mine is proximal an old or existing one:
Fig. 5 (above) Around Bachelor Plan View -- The Pluton seen in the image above is to the east of the Bachelor Mine. The Pluton is the intrusive that caused all the gold to be deposited. The original showing that caused the Bachelor Mine to be discovered is on the other (East) side of the Pluton (labeled as 'Showing O'Brien'), however it was decided long ago when the veins of Bachelor were found to concentrate efforts there on the west side. There is lots of discovery potential on the property. The red marks on the left indicate the location of a historic poly-metallic mine. The most exciting new discovery of late has been the Moroy Deposit, located ~1km from the Bachelor mills head frame.
The Moroy Discovery (A.K.A. South Zone) -- Located ~1km from the Bachelor Mill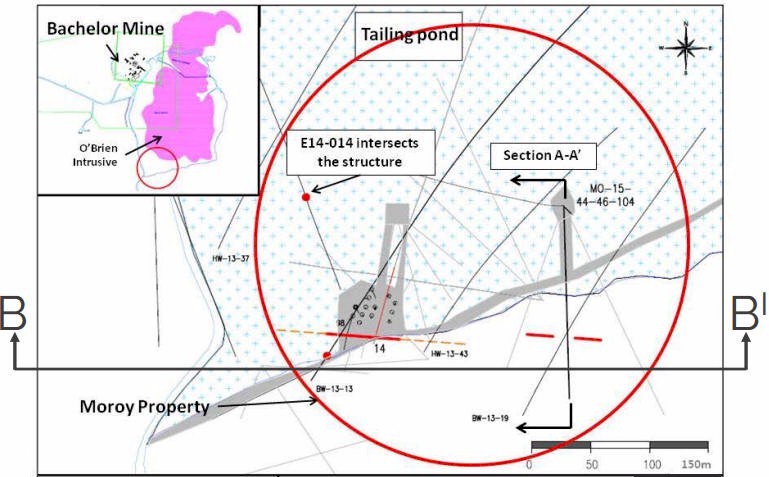 Fig. 6 (above) Moroy Plan View
The theory is that Bachelor and high-grade mineralized zones of Moroy link up at depth. There is potential for Moroy to surpass Bachelor/Hewfran in gold. Yet an entirely new mine on the mill's doorstep. Mr. Thibaut Lepouttre, Managing Director at Belgium-based mining and commodity research BVBA firm Caesar published a report in February 2016 in which he extrapolates results to date and sees potential* for 1,000,000+ new high-grade ounces from the South Zone.
Fig. 7 (above) conceptual mining plan for Moroy -- This image was taken from a 3D animation of the deposits, which may be viewed here.
Fig. 8 (above) Moroy - open in all directions, Longitudinal Section; B - B
Moroy is a recent discovery; September 22, 2015 Metanor announced it had intersected 10.1 g/T Gold over 26.2 meters near-surface (hole M0-15-14) in a new discovery zone not linked to anything previously known, only ~900 meters south of the headframe at Bachelor. This exceptionally stellar high-grade intercept begins at only 6.4 meters depth and has since been systematically followed-up:
Results to date in the new Moroy south zone confirm a huge multi vein system and the interpretation clearly shows Moroy structures with an East-West orientation, and a dip near 70 degree to the North -- this explains why anything in the area was never found in old exploration efforts; the main Bachelor Mine veins dip to the South and all historic drilling in the South Zone was mistakenly drilled to the North (parallel, making an intersect impossible).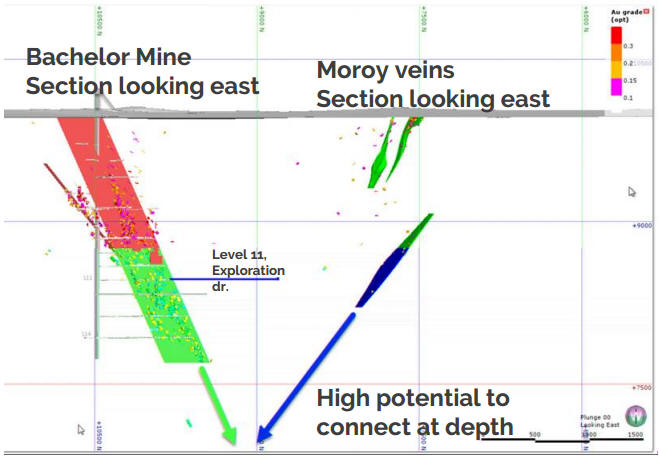 Fig. 9 Bachelor-Moroy, great potential at depth
------ ------ ------ ------ ------ ------ ------ ------ ------
The Emerging Barry Gold Camp - 100% Owned, located ~65km southeast of the Bachelor Lake Mine/Mill
• Reopening the Barry open pit is a 'game changer' for Metanor, providing flexibility and options for the Company and further de-risking for shareholders.
Metanor first mined the Barry open pit from 2008 to 2010, pouring a total of ~45,000 oz gold from Barry sourced ore during that period. Metanor is now eager to return to Barry under an improved higher-grade (2+ g/T) model from a new 347,000 oz Au In-Pit resource (in all categories). The mill is proven and the recoveries are higher than when Metanor first mined Barry, the loan and streaming obligations that consumed cash flow are satisfied, and the crews are experienced.
Significant cash flow without high development costs at Barry open pit:

With open-pit production pegged to begin entering-2018 and ramp-up expected to attain 37,573 ounces/annum for year two (contingent on Barry ore supplanting Bachelor ore vs. juxtaposing the ore), Metanor will become a cash flow machine at Barry with all-in production cost projected at only $1,114/oz (US $891/oz). The PEA was performed using a gold price of only C$1,560/oz, financial analysis using higher gold prices of C$1,710/oz would generate a NPV at $78.07 million with an IRR of 246% before taxes. Under the base PEA we are looking possibly C$15M+ in positive cash flow per annum from Barry, under current gold prices we are looking closer to C$23M+ per annum in positive cash flow. Important to note is that Metanor will pay no taxes for at least the first 2 - 3 years with its loss carry forward on the books, plus there is no streaming agreement on the Barry project.
Highlights of PEA Barry all in CAD dollars, include:

Net present value (NPV) before taxes (at 6%) of $53.5 million;

Internal rate of return (IRR) before taxes of 198%;

NPV after taxes (at 6%) of $25.9 million;

IRR after taxes of 94%;

Capital startup of $8.5 million;

Payback of 0.71 years with a gold price of $1,560 / oz;

All-in production cost of $1,114 / oz (US $891 / oz);

For the life of the mine, a production of 193,457 ounces of gold over 9 years;

An average of 21,495 ounces of gold production with up to 37,573 ounces in year 2;

Milling of 1,200 tonnes per day at the Bachelor plant, with an average grade of 1.75 g/t diluted for the life of the mine including the first 3 years at 2.61 g/t with a metallurgical recovery of 95%;

Strip ratio mineralization of 2.17 to 1.

Click here for full copy of the September 22, 2016 PEA news release on Barry.

Figure 10 (right) -- Barry open pit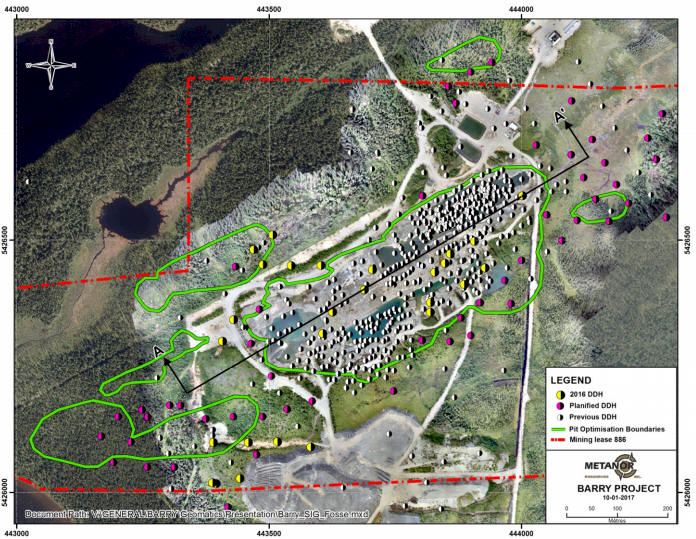 Fig. 11 (above) Barry planned open pit boundaries.
On June 22, 2016 the Company announced a new Resource Estimate (see 'Metanor Increases Total Ounces in New Gold Resource Estimate at Barry Pit') totaling 1,351,000 oz gold in all categories* (see breakdown further below). From an immediate mining scenario point of view, the geologists identified a total in-pit resources of 347,350 ounces at 2.07 g/t in 5.24 million tonnes calculated using parameters for direct shipping of mineralized material to Bachelor Lake mill where 45% is in the measured and indicated category and 55% is in the inferred category.
Fig. 12 (above) Barry open pit, open at depth -- This image from the PEA shows the existing pit and the proposed pit outline. Barry was mined to only ~28 m at its deepest point and is essentially ready to go back into service. The present gold corridor is nearly 1 km long with a width of approximately 140m. The yellow lines depict the orientation of the three stacked mineralized shoots.
Image of main pit from May 19, 2016 press release: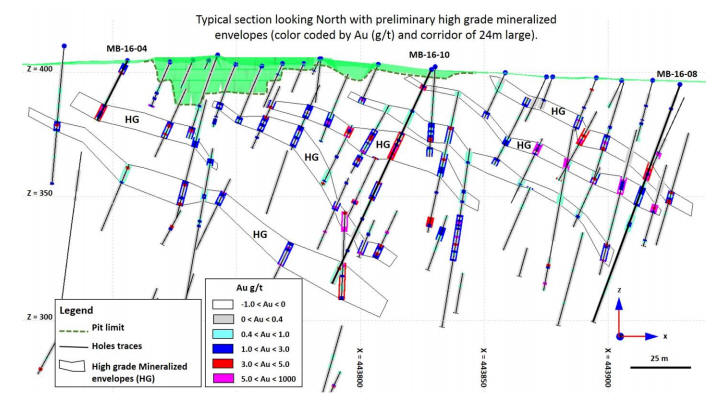 Potential to advance rapidly at Barry
The plan is to increase the resource, increase the 9 year mine life, do a pre-feasibility study, do the necessary construction, and be in production entering-2018. See related November 15, 2016 release 'Metanor Intersects 4.25 g/t Au Over 16.7 Meters at Barry'. There is in excess of 1 million ounces identified in the published NI43-101 in all categories. The initial operation presented in the PEA is a small operation, however there is no shortage of gold at Barry and the operation is scalable for ounces.
The Urban-Barry District - Metanor's Barry is knocking on Osisko's door.
The Urban/Barry mining camp is undergoing consolidation, Metanor holds key assets:
Metanor's Barry property is right in the middle of one of the fastest developing gold camps in North America. Area players that encircle the Barry property include Osisko Mining Inc.'s prolific Windfall Property, Bonterra Resources' Gladiator Deposit, Beaufield Resources' Macho claims, and Urbana -- ALL of which have seen 'off-the-chain' levels of interest of late; this February Bonterra announced a $15 million bought financing, and Beaufield $6 million. One look at the area and it is obvious that Metanor holds key ground and the recent intercept by Metanor in Q4-2016 of '70.9 g/t Au over 2.6 meters' on the same trend as Osisko's Windfall deposit puts a target on MTO.V now.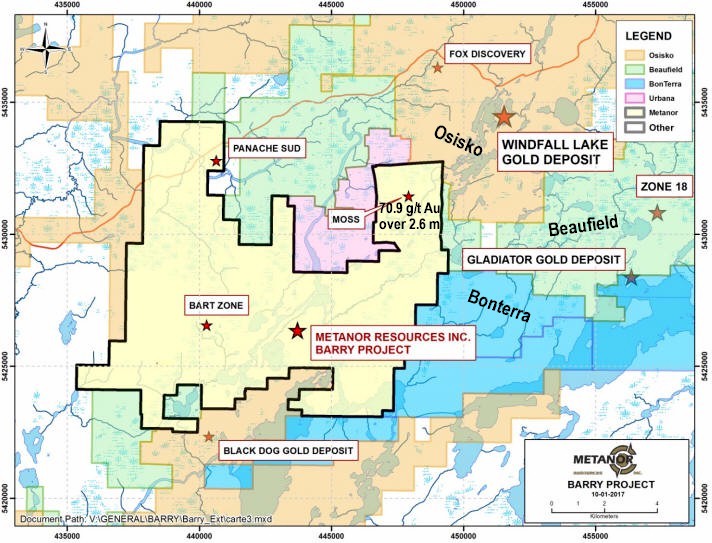 Fig. 13 (above) Barry claims surrounded, in part, by Osisko, Bonterra, and Beaufield. Note the 'Moss Showing' adjacent Osisko, this is a recent new discovery hole grading 70.9 g/t Au over 2.6 meters. The Barry deposit lies at the center of mineralized trend, with critical exploration targets. The main pit extensions over a 4 km potential strike. Exceptional targets are proximal Osisko's Windfall Lake and on trend with the successful results of Beaufield / Urbana. There are also excellent targets to the ENE, in close proximity to the Bonterra claims and on trend with promising early stage results have been reported by Bonterra.
Metanor makes high-grade gold discovery adjacent Osisko Mining's Windfall Property line on trend with the Windfall Deposit
On October 31, 2016 Metanor announced that it intersected 70.9 g/t Au over 2.6 meters in the Moss Sector located in the north-east section of the Barry property adjacent the Windfall property belonging to Osisko Mining. This drill hole intersects two gold bearing zones associated with sulphide (15%) in proximity to a regional fault. As per the drill holes, this dominant geological structure has a minimal length of 6 km, toward the Windfall property belonging to Osisko Mining. A segment of 3 km of this structure extends on the Barry property belonging entirely to Metanor Resources. The geological context and the structure controlling the Windfall deposit extend to this discovery. This new high-grade discovery dramatically enhances the attractiveness of Metanor to prospective suitors in an area under consolidation, as Metanor has quality grades adjacent Osisko and the only mill around.
------ ------ ------
The resource estimate at Barry now (as of June 22, 2016) sits at 305,000 oz Gold of Measured & Indicated Resources (8,420,000 t at 1.13 g/t Au) and 1,046,000 oz gold of Inferred Resources (31,919,500 t at 1.02 g/t Au) and is wide open for large resource growth expansion. The current 1km strike at Barry is potentially 13km, there are in excess of 150 anomalies outside the pit area. The Barry deposit is a potential multimillion ounce target; the independent international professional geological firm SGS Geostat has identified (click here for copy of that 121 page report) Metanor's Barry deposit as comparable in potential to rival other multi-million ounce deposits such as Canadian Malartic gold deposit (formerly owned by Osisko, now owned by Yamana and Agnico-Eagle) & Detour Gold's Detour deposit.

Other than a 1% royalty (NSR), an additional 2% NSR is payable on metals derived from 13 claims, representing 10% of the property. There are no other obligations arising from production from the Barry open pit.
------ ------ ------ ------ ------ ------
Other noteworthy holding projects in Metanor's portfolio
Dubuisson (100% owned) and Nelligan (70% owned) Properties: Metanor also has several other properties of significance including their Dubuisson property which precipitated MTO becoming a publicly traded entity in 2003. The Dubuisson property lies within the city limits of Val-d'Or, Quebec, where 9,000 m of exploratory drilling has confirmed a measured, indicated, and inferred resource of over 450,000 ounces of NI 43-101 compliant gold. The Nelligan property, which consists of 58 claims totaling approximately 2895 ha located immediately to the west of the Bachelor property and approximately 8 kilometers southwest of the Town of Desmaraisville and has turned up significant results and new gold bearing zones of significance have been discovered. Nelligan is in close proximity to the Bachelor Lake Mill. Sheared and mineralized horizons at Nelligan similar to the Vein A at the Bachelor Mine were exposed on the Billy group and the Valley group of Nelligan property. On the Billy group, assay values of 582 g/t Au over 0.53m and 3.15 g/t Au over 3.0m were obtained from channel sampling. On the Valley group, the best assay result was obtained from a grab sample of altered mafic volcanic with minor pyrite stringers and quartz veining and returning 3.25 g/t Au. Values obtained in channel samples demonstrate continuity of gold mineralization across the shear zone with grades of 2.02 g/t Au over 2.10m and 1.47 g/t Au over 2.25m.
------ ------ ------ ------ ------ ------ ------ ------ ------
Recent news releases regarding Company accomplishments and exploration developments:
• February 8, 2017 "Metanor earns $2M in fiscal Q2 2017, raises guidance"
• February 2, 2017 "Metanor Intersects 9.6 g/t Au Over 7.6 m at Bachelor Mine"
• January 23, 2017 "Metanor: Share Consolidation"
• January 12, 2017 "Metanor Intersects 8.6 g/t Au Over 13.9 m at Bachelor Mine"
• December 5, 2017 "Metanor Increases Its Production Guidance and Reports Its Operational Results for the Quarter Ended December 31st 2016"
• November 29, 2016 "Metanor Reports its Financial and Operational Results for the Quarter Ended September 30th 2016"
• November 16, 2016 "Metanor Intersects 13.1 g/t Au Over 3.8 m at Bachelor Mine"
• November 15, 2016 "Metanor Intersects 4.25 g/t Au Over 16.7 Meters at Barry"
• November 3, 2016 "Metanor files PEA on the Barry project"
• October 31, 2016 "Metanor Intersects 70.9 g/t Au Over 2.6 m on the Barry Property Adjacent to Osisko Mining's Windfall Property"
• October 21, 2016 "Metanor Reports Its Financial Results for the Quarter and Year Ended June 30th 2016"
• October 6, 2016 "Metanor Intersects 12.0 g/t Au Over 3.9 M in a New Sector of the Bachelor Mine"
• September 21, 2016 "Metanor Announces Positive PEA on its Barry Gold Project: NPV of $53.5 M and IRR of 198% Before Taxes"
• September 21, 2016 "Metanor Clarifies Its Disclosure of the Resources of June 22 2016 Press Release and Files an Amended Technical Report"
• September 8, 2016 "Metanor Commences Drilling Program at Barry"
• September 6, 2016 "Metanor Discovers New Gold Structures on its Moroy Property"
• August 18, 2016 "Metanor Intersects 14.5 g/t Au Over 7.2 M at Bachelor Mine"
• August 9, 2016 "Metanor SEDAR Files a NI 43-101 Technical Report Updating the Mineral Resources of the Barry Pit"
------ ------ ------ ------ ------ ------ ------ ------ ------