Recent news releases regarding Company accomplishments and operational developments:
• May 1, 2018 "Lucky Minerals Closes Acquisition of Goldmindex and 55,000 Hectare Property in Heart of Prolific Mineral Belt in Ecuador ".
------ ------ ------ ------ ------ ------
2) Emigrant Creek Cu-Au-Mo Project, Montana - 100%-owned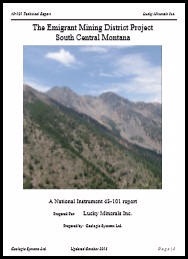 Click here for NI 43-101 report on Emigrant Creek Project [Oct-2015 PDF].
Targeting a large-scale porphyry system with world class potential. To date, 6 Copper-Gold-Molybdenum-Silver deposits have been identified within a 6 square mile area in Emigrant Creek, Montana.

Each individual area within the claim blocks shows significant potential to host 100 to 300 million tonne + deposits of copper-gold silver halo deposits with a molybdenum core.
The Emigrant Creek Project could conceivably contain a billion + tonne resource based on exploration and drilling data compiled from each of the zones contained in Lucky Minerals' overall land package covering approximately 6 square miles.

Over $20 Million has been spent in exploring the property and putting together the database, owned by Lucky Minerals, which points toward the existence of a very large porphyry system. The U.S. Geological Survey includes the Emigrant District as one of the world's giant porphyry systems in a report titled "Giant Porphyry Related Metal Camps of the World – A Database". Every major mining company is searching the world for these types of deposits.
Figure 9a. (above) Location map, Emigrant Creek Cu-Au-Mo Project, Montana.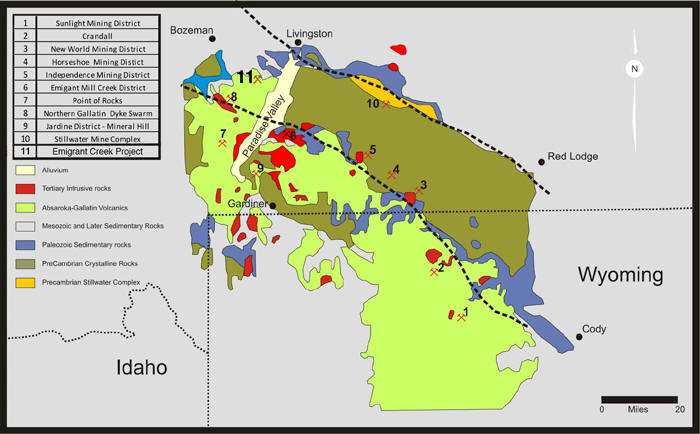 Figure 9b. (above) Location on geological map, Emigrant Creek Cu-Au-Mo Project, Montana is listed as #11 -- The Emigrant Mining District is centered on one of several intrusive centers localized on Cooke City Structural Zone at its intersection with the local Mill Creek fault. This intersection is the locus for the emplacement of the Emigrant Stock that is spatially, genetically and temporally related to the deposits of the district.
Location & Infrastructure
48 Km south of Livingston, Montana, population 7,000+. The project area is readily accessible to existing road networks, power infrastructure and other resources necessary to support advanced exploration activities or mining operation.
Possible Comparable Deposits
Emigrant Creek Project is currently a target for developing a potential world class porphyry system. Should further exploration show such a system exists, it could potentially be comparable to the deposits listed below.

• New Gold's New Afton Mine, Aurico Metals' Kemess Underground Project, Codelco's El Teniente Mine, Rio Tinto & BHP Billiton's Resolution Copper Mine and Northern Dynasty's Pebble East Deposit.

Historical Work: • Placer Gold Production • Exploration • Drilling

Gold has been found on the Emigrant Project site since the mid 19th century. Records indicate that ~40,000 ounces were recovered from small scale placer and lode operations between 1864 and 1930. From 1971 to 1992, a number of companies conducted various types of mineral exploration on the property including 12,873.8M of drilling over 83 holes, primarily on the St. Julien and DUV zones. Significant induced polarization surveys, chip sampling and alteration mapping have occurred in addition to drilling.

• 1864: Placer gold discovered (~40,000 ozs produced from 1864-1930).
• 1884: Lode gold discovered in Area 1 (St. Julien).
• 1963: 2 holes drilled near Area 6 (Emigrant).
• 1971-73: 11 holes drilled + 4 miles of geophysics completed.
• 1991: Kennecott drilled 6 holes.
• 1991: Pegasus Gold drilled 51 holes – 7,010.4 m.
Figure 10. (above) Emigrant Creek Cu-Au-Mo Project, Montana

Area #1 – St. Julien Gold Breccia Zone, 27 holes drilled. 22 holes with significant mineralization. The Gold mineralized zone here is estimated at 400X900X500 m (W*L*D)

Significant Intersections:
• Hole P91S-09 67.1 meters grading 1.93 g/t Gold (including 13.72 meters grading 3.64 g/t Gold), .10% Copper or 1.32% Copper Equivalent.

• Hole P91S-10 56.4 meters grading 1.81 g/t Gold (including 7.62 meters grading 4.79 g/t Gold), .12% Copper or 1.26% Copper Equivalent.
------ ------ ------

Area #2 – DUV Copper/Gold Breccia Zone. Copper-gold breccia zone is estimated at 800X750X500 m (W*L*D), 33 holes drilled. Holes ended in mineralization and never followed to depth.

Significant Intersections:
• Hole P91D-03 132.3 meters grading 2.12 g/t Gold (including 37.80 meters grading 6.76 g/t Gold), .21% Copper or 4.48% Copper Equivalent.

• Hole P91D-10 50.3 meters grading 14.37 g/t Gold (including 7.62 meters grading 88.39 g/t Gold), .03% Copper or 9.12% Copper Equivalent.
------ ------ ------

Area #5-Base Metal Copper/Silver/Lead/Zinc Breccia Zone, 15 holes drilled, all holes stopped in mineralized zones.

Significant Intersections:
• Hole G76W-08 105.2 meters grading .69% Copper, 29.40 g/t Silver or 1.00% Copper Equivalent (gold not assayed).

• Hole G75E-02 78.3 meters grading .37% Copper, 37.71 g/t Silver or .77% Copper Equivalent (gold not assayed).

• HoleP92G-01 102.1 meters grading .49% Copper, 38.74 g/t Silver or .64% Copper Equivalent (gold not assayed).

Note : All Copper Equivalent figures are based on a Copper price of $2.75 /lb and a Gold price of $1,250 /oz.
------ ------ ------

Area #6-Emigrant Copper Breccia Zone

A 1971 large Induced Polarization survey was re-interpreted in 2006 using more advanced computer technology than was available at the time of the original survey. The re-interpretation found extremely high chargeability anomalies that likely indicate sulfides and associated mineralization in the survey area which is to be the focus of further mineral exploration.

This area is at a higher elevation than Area #5 with significant copper/gold at surface. The Emigrant zone is a major target that is undrilled except for a single hole to the far east of the zone, for which no assay data can be found in the property database, just the drill logs.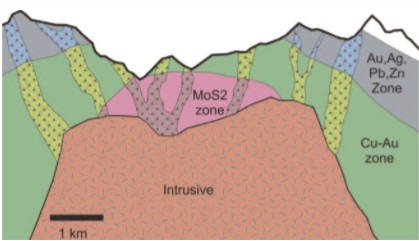 Figure 11. (above) Geological Model of LJ.V's Emigrant Creek Cu-Au-Mo Project.
Geological Setting & Thesis
• Several areas of extensive mineralization.
• Previous drilling tested only near surface zones and did not examine the entire system.
• Most holes were stopped in copper bearing sections.
• Drilling was concentrated above copper/gold part of the system, however higher grade material is considered to be present below.
• Zonation clearly fits a large-scale porphyry model: Breccia areas located above the main system, molybdenum core moving out into copper margins, gold areas are boiling zones high in the system. • Possible that the zones will connect into a much larger system at depth.
• Further exploration will initially focus near surface but would follow intrusive mineralizing breccia zones to depth for main source.
------ ------ ------ ------ ------ ------ ------ ------ ------