Recent news releases regarding Company accomplishments and operational developments:
• January 24, 2017 "Nippon Dragon Resources will use DIAGNOS's Artificial Intelligence tools to optimize exploration of its Rocmec 1 and Denain properties".
• January 6, 2017 "Nippon's 'Dragons' get a positive independent report on its performance and low energy consumption".
• November 22, 2016 "Nippon Dragon Resources (NDR) closes a private placement and provides operational update on the Arizona project".
• October 26, 2016 "Nippon mobilizes its flotation plant in Arizona and increases number of gold ounces to be produced".
• October 19, 2016 "Nippon finalises R&D program on mini-lance".
• September 12, 2016 "Nippon secures funding for gold production via a Forward Gold Purchase Agreement".
------ ------ ------ ------ ------ ------ ------ ------ ------
Thermal Fragmentation technology

Fig. 7 (left) Burner head.
Is a mining method that uses heat in order to shatter/spall the high-grade veins greatly reducing the use of explosives.

Extracting only the vein with minimal dilution.

Could be used as a stand alone method or as the perfect complement to any conventional hard rock mining operation.
Nippon Dragon's President, Donald Brisebois, is credited with having developed and invented the "Thermal Fragmentation Process" for narrow vein precious metal extraction. He has held the positions of General Manager for Placer Dome Inc. (1981-1997); supervisor (1977-1981) for Falconbridge, Teck, Ross-Finlay. He acted as Chairman of the Quebec Mining Association Board; is a member of Canadian Institute of Mining and Metallurgy; Board Member of Soredem (Quebec Research Group) and numerous research teams to develop innovating mining methods focused on narrow vein ore bodies. He has a reputation in the industry for troubleshooting, and has won mining awards for 'Best Mine Manager in Canada' and 'Best Producer - Lowest Cost'.
Understanding the mining sector landscape
& Thermal Fragmentation technology's impact on productivity:
The mining industry faces unprecedented economic challenges, and is considered to be one of the most polluting industries in the world. Innovation in the mining industry has been characterized by low R&D spending, antagonistic supplier relationships, inward industry focus, and a continued trend towards fewer, larger, longer-lived components. Even though the industry may have been able to continue experiencing efficiency and productivity gains in the past, we seem to have reached the pinnacle of current technologies. Indeed, bigger trucks and shovels represent and improvement over smaller versions and deliver marginal cost and production benefits, but they still depend on grossly wasteful energy conversion and human supervision at every stage.
Although technology can certainly improve operations in the mining field, its true benefits can be realized when it is applied to a "platform" approach or Nippon Dragon Resources' proposed "New Production Platform" that encompasses all major phases of the operation such as mine development, drilling and extracting, processing, transportation, as well as the provision of utilities. The Thermal Fragmentation mining method is a disruptive solution and transforms the entire process. Times change and for all industries in the world, technologies have changed almost everything except mining, in a meaningful way. We've reached a point that cost-cutting is no longer a solution to ensure profitability -- Nippon's process is disruptive and will reduce costs up to 60% for many mines in the world.

Fig. 8 (above) Hard rock mining over time: Mining has seen few changes since the invention of explosives. The depletion of economically viable gold deposit around the world is occurring and the squeeze is increasingly on for margins, known and renewable resources are more difficult to be extracted economically. Thermal Fragmentation fills an important gap and is an essential extraction method.
Minimizing dilution with Thermal Fragmentation
Fig. 9 (above left) -- Image of vein annotated with the degree of accuracy that thermal fragmentation works relative to without, (above right) from pilot hole to ~1 x 1 m.
Fig. 10 (above left) -- Precision thermal fragmentation minimizes dilution.
Thermal Fragmentation method replaces :

• Room & Pillar method (flat or reef).

• Shrinkage method (manpower intensive).

• Small Long hole method (dilution problems).
Key benefits:
• Major dilution reduction (4:1 ratio approx.).

• Little or no wall damages caused by blast vibrations.
• Significant cost savings related to ore handling and ore treatment (1 – 13 mm size fragments).
• 2 person team per machine (efficiency).

• Green technology (500 tpd vs 2,500 tpd).

• Cash cost reduction (30%-60% approx.).

• Selective mining.
• Increased Safety.
Fig. 11 (above) -- Fragmented mineralized ore;
• Rock fragments from 0 to 13 mm.

• Optimal in hard and dense rock.

• The ore does not have to be crushed.
Green benefits:

• Massive reduction in energy consumption and greenhouse gas emissions.

• Significantly decreases environmental footprint.

• Reduces the risk of environmental disasters.
Impacting the entire mining process:
Fig. 12 (above) -- The Thermal Fragmentation mining method is a new production platform which positively impacts all stages of a mining operation.
Fig. 13 (above) -- Thermal unit.
• The thermal head is inserted into the pilot hole.
• The head is ignited and compressed air is added to create a thermal 'cushion' .
• Maximum width is 1200 mm (~10 min.).
• No angle limitation.
• Little or no wall damages caused by blast vibrations.
Fig. 14 (above) -- The Company has two models. The normal Dragon unit (seen left, above) is on tracks, it can also accommodate a drill. The Mini-Dragon unit (seen right, above) is very small, it will fit in small drifts. Nippon Resources Inc. has a manufacturing hub in the Val d'Or area of northern Quebec. Right now it is in a position to produce 2 to 3 Dragon units per month. The unit is designed for toughness, and parts for the Dragons can be replaced using standard Caterpillar-type parts, apart from the burner head (which comes from the Company). Under normal use the burner head typically has a lifespan of ~1yr before pro-active replacement.
------ ------ ------ ------ ------ ------
Rocmec 1 Gold Property, Rouyn-Noranda, Quebec -- 100%-owned
Advanced stage, fully permitted, near-turnkey ready mining scenario.
Download PDF of Rocmec 1 Technical Report.
• NI43-101 May 2010 confirmed 479,100 oz all categories (3 gpt cut-off).

– Bloc 600 m X 600 m X 275 m deep.

– Open all directions.

• 83 hectares + 2,088 hectares unexplored.

– 83 Hectares represents ~3% of surface area.
| | |
| --- | --- |
| Fig. 15 (above) Rocmec 1 portal | Fig. 16 (above) Activity at Rocmec 1 |
| | |
| --- | --- |
| Fig. 17 (above) Rocmec 1 Gold Property Location Map -- 35 kilometres west of the town of Rouyn-Noranda and is easily accessible from Route 117 | Fig. 18 (above) -- Mineralized Boucher structure/veins coincides with the Lac Labyrinthe Fault (annotated on satellite view of area). The width of the structure is ~30 m, and it runs for >3.5 km on the property. |
Mining-friendly province: Quebec is unanimously agreed in the mining community to be a stable, mining-friendly region and is ranked as a top-tier jurisdiction by the Fraser Institute. Quebec is generous in tax incentives for exploration, and low hydro-electric costs.
Noteworthy Veins of Rocmec 1 - The ore body is well defined by diamond drill holes.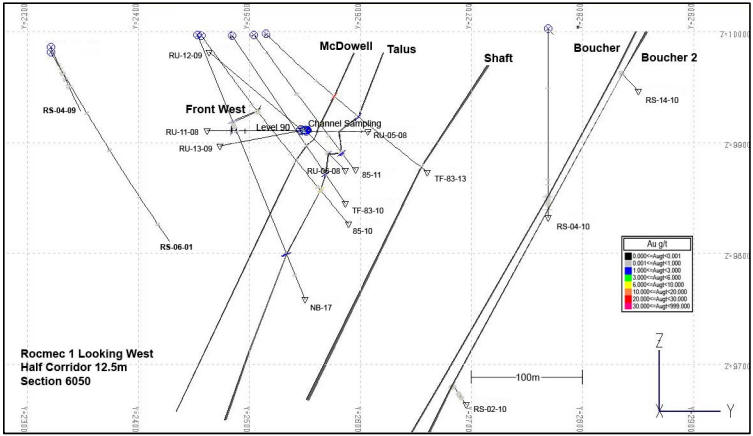 Figure 19 (above) -- Section 6050mE Rocmec 1 looking West
Figure 20 (above) Oblique View of the Rocmec 1 Mineral Deposit veins and structures. To date, Nippon Dragon has invested approximately $33,000,000 in rehabilitating the property, surface and underground infrastructure, diamond drilling, equipment, drifting and the acquisition of a 75 tpd treatment plant, designed for underground installation. The property includes a 100m deep two compartment shaft, an 844 metre decline allowing access to five levels (50, 70, 90,110 and 130 metres). On these levels a total of 1700 metres (drifts and cross-cut drift) were driven.
2010 Resource:
Table 1b (above) - 2010 43-101 Classification table of global resources, prepared with a cut-off grade of 3 g/t, an industry standard. The resources measured/indicated now total 570,300 tons at 6.52 g/t or 119,500 ounces vs. 477,400 tons to 5.59 g/t or 85,900 ounces.
Summary of veins
Front west vein:
This mineralized zone recognized by diamond drill holes is near surface to the west of existing shaft, no special name was given, only in accordance to the fact it sits in front of the McDowell i.e. on the hanging wall. Actual known extent of the zone ranges from 5950Me and 6080mE near surface to 110m at depth. Grades range from trace to 67.87 g/t. and widths vary from 0.15 metres to 1.53 metres. The best intersection encountered is 67.87 g/t over 1.44 metres.
Fig. 21 (above) -- Section 6400mE Looking West, McDowell & Talus veins.
McDowell vein:
The McDowell vein is the longest gold bearing structure on the property. This main dislocated structure represent the Western McDowell vein, McDowell, the West Claude, the Russian Kid and the Beaudoin vein form one continuous orebody, The structures were followed in the underground development or intercepted by diamond drill holes for 1660 meters East West with an average width close to one (1) meter. The pyrite associated with the vein is present in millimetre-length veinlets within the mass of quartz and preferably in contact of the vein with the wall-rock. The Hanging wall and the footwall both contain coarse pyrite. Lower vein wall (foot wall) is characterized with fine pyrite and is disseminated over more than three meters. It is carrying gold bearing mineralization until a vertical depth of 400 meters. This vein was developed and followed with the underground levels 150, 300 and 425(ft) now level 45, 90 and 130 meters. Grades range from 0.03 g/t to 120.00 g/t and widths vary from 0.07 metres to 5.00 metres. The best intersection encountered is 74.65 g/t over 2.34 metres.

Talus vein:
The Talus vein is probably a secondary sub parallel branch structure to the McDowell vein whose junction point is located close to the section 6445mE. The Talus vein extends to the west of this junction point and is followed and identified up to the 6000mE coordinate. Some sampling of the vein was done in the drift at the 90m level. The actual known extension at depth is 400m. Grades range from 0.03 g/t to 61.58 g/t and widths vary from 0.05 metres to 3.04 metres. The best intersection encountered is 37.02 g/t over 1.22 metres.
Shaft vein:
Located near the mine shaft, the vein is encountered at level 45 meters. Gold bearing mineralization appears in a broad brecciated zone consisting of alternating silicified, pyritized and sericitized diorite bands, and thin milky quartz bands. The distribution of the gold contents is erratic although gold values increase at a depth. The results of sampling of drift made by North Bordulac Mines show that there would be more than one gold bearing structure besides the shaft as North and South satellite veins to the shaft veins within that sector, these are not taken into account in the resource estimation at the moment. Grades range from 0.01 g/t to 28.01g/t and widths vary from 0.12 metres to 2.41 metres. The best intersection encountered is 18.15g/t over 1.53 metres.
Boucher vein:
During one site visit in November 2006, core from the new Nippon Dragon diamond drill hole RS- 06-01 was reviewed and sampling instructions were given, the mineralized zone was spectacular with presence of visible gold associated with quartz carbonate vein. The zone is located at 165m on the footwall of the McDowell zone. The zone is very impressive and differs significantly by the amount of quartz and the mineralized core width. Visible gold was observed and special sampling procedures were taken to obtain a representative assay value. Grades range from 0.01g/t to 29.94 g/t and widths vary from 0.43 metres to 2.74 metres. The best intersection encountered is 20.06 g/t over 1.45 metres (click to view core samples).
Pictured right present the aspect of the visible gold and the Boucher zone.
Figure 22 (above) -- Core from Boucher vein.
Boucher 2
The Boucher 2 zone is similar to the Boucher, but it is located 25 m behind to the north on the foot wall of the Boucher, locating it almost 190m from the McDowell, no other diamond drill holes have reached such a distance from the McDowell on the north side. It also indicates that mineralization is not limited to the actually known corridor but extent to the north of the previously known sectors. Grades range from 0.01g/t to 29.76 g/t and widths vary from 0.16 metres to 3.77 metres. The best intersection encountered is 27.91 g/t over 1.77 metres.

Diamond drill campaigns:
Nippon Dragon conducted several diamond drill campaigns on the Rocmec 1 property over the past years, two of which by contractors, the others by Nippon Dragon employees. All of the diamond drill campaigns were designed and carried out following the reasoning of "drill for structure and drift for grade". A NI43-101 compliant report was prepared Système Géostat International of Blainville (Quebec) and made public in May 2010. The results delineated measured and indicated resources of the Boucher and Boucher 2 structures totalling 22,700 ounces respectively, the Boucher Structure of 58 700 tonnes at 5.46 g/t Au totalling 10,300 ounces and the Boucher 2 structure of 31,500 tonnes at 12.20g/t Au totalling 12,400 ounces with a cut-off grade of 3 g/t This is the first time that Nippon Dragon obtains this type of resource category for the structure that was discovered in 2006. The Boucher vein has now been indentified over a distance of 450 meters in length, at depths of 450 meters and remains open in all directions.
------ ------ ------ ------ ------ ------ ------ ------ ------