Figure 4. Subject Company's Logo
Rogue Resources Inc. (TSX-V: RRS)

Rogue Resources Inc. is a Canadian based mineral exploration mining company listed on the TSX Venture Exchange (ticker symbol RRS). The Company has come to our attention due, in part, to the exceptional opportunity afforded shareholders as RRS.V is a uniquely diversified junior with exposure to several commodities and potential near-term upside catalysts, the most immediate being the it's high-grade East-West Gold Project located along the Cadillac Trend in the prolific Val d'Or, Quebec, gold mining district.
Recent Company news of significance:
• August 26, 2014 "Rogue Resources Closes $2.07 Million First Tranche of Private Placement and Receives Approval to Proceed With the Acquisition of the Femelle Silica Project".
• July 30, 2014 "Rogue Resources Announces Acquisition of Quebec Silica Project and $2.5 Million Private Placement".
Below is an overview of several of RRS.V's key interests:
1) East-West Gold Project, Val d'Or, Quebec
.
2) Lac de la Grosse High-Purity Silica Project, St. Urbain, Quebec
.
3) Langmuir Nickel Project, Timmins, Ontario
.
4) Radio Hill Iron Project, Timmins, Ontario
1) East-West Gold Project, Val d'Or, Quebec - 100% Owned, 3.5% NSR (which can be purchased by the Company)
Region and Infrastructure
The East-West Gold Property is Located along the Cadillac Trend in the prolific Val d'Or, Quebec, gold mining district
Figure 5. Location map showing property claim along Cadillac Trend, neighborhood, and location of three main zones of the deposit (West, Raven, and East). The property is located 11 km west of Val d'Or, Quebec on the eastern portion of the Abitibi greenstone Gold trend belt. The project is intersected by Highway 117 and is in close proximity to multiple present and past producing gold mines and milling facilities.
Located in a world class mining camp and stable mining-friendly region
Val-d'Or (population ~35,000) is a very supportive mining community with an experienced labor force and all necessary mining services (contractors, drillers, etc.). Quebec is unanimously agreed in the mining community to be a stable, mining friendly region and is ranked as a top-tier jurisdiction by the Fraser Institute. RRS.V receives Federal and Provincial tax incentives for exploration, the Québec government reimburses 32% of exploration costs.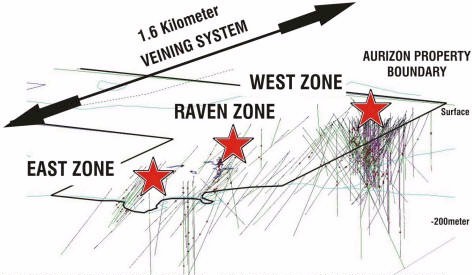 Figure 6. East-West Property deposit - 3D drilling composite looking south-west - no meaningful drilling efforts have occurred below 200m yet. RRS.V's technical team will be executing a targeting sequence on the Gold vein system this Q3 2014.
Highly prospective for major Gold discovery
• More than $4 M has been spent on mapping near surface anomalies and shallow drilling. High-grade mineralization at the East-West Project comes to surface, and has never been adequately tested below 200 metres. Approximately 180 historical holes have been drilled since 1980.

• Narrow vein, high-grade system discovered at the East-West Property deposit is similar to major deposits in the Val d'Or Camp which have shown to increase in grade and size at depth. Mineralization identified as similar to original Sigma Mine showings (4.5 million ounces of Gold produced to a depth of 2,000 m).
Comparison of RRS.V's West Zone shoot to nearby intrusive plug of the historic Lamaque Mine -- the West Zone has only been drilled to 200 m and there clear potential for major discovery:
Figure 7. (above) - Depth of Lamaque Mine (on left) compared to West Zone shoot drilled to only ~200 m (on the right)
Comparatively, drilling to date on the East-West Gold Project has only scratched the surface exploration wise. RRS.V's technical team is the same team that was responsible for the success surrounding Integra Gold which discovered and advanced the Triangle Zone, the highest grade resource in its project area (adjacent the Sigma and Lamaque Mines) despite Teck having held the ground for 80 years prior. Rogue Resources' technical team has proven itself with the type of deposit it now faces at the East-West Gold Project, it is skilled in orientating these vein systems, and knows how to delineate gold-laden material contained within the related intrusive plugs
Select near surface drill highlights include
| Drill Hole | from (m) | to (m) | width (m) | Au (g/t) |
| --- | --- | --- | --- | --- |
| CD-55 | 143.6 | 146.8 | 3.20 | 72.44 |
| CD-78 | 125.3 | 129.4 | 3.97 | 84.48 |
| CD-156 | 199.0 | 201.2 | 2.14 | 123.96 |
| LE0-09-10 | 107.70 | 107.80 | 0.10 | 1154.67 |
| LE0-09-33 | 10.55 | 12.00 | 1.45 | 10.08 |
Rogue's technical team is constructing a 3D model of the geology and mineralized zones of the deposit, and will be executing a targeting sequence on the Gold vein system this Q3 2014. Historic near-surface drill results Rogue intends to build on include 72.4 g/T Gold over 3.2 m, 84.48 g/T Gold over 3.97 m, and 123.96 g/T Gold over 2.14 m -- all of the aforementioned results were drilled between surface and 200 m vertical. Little drilling has been performed on the deposit below 200 m to date, which is encouraging for RRS.V as the narrow-vein high-grade system of the is similar to major deposits in the area which have shown to increase in grade and size at depth -- such is the nature of these intrusive plugs. Think of the veins they are intersecting near surface on the deposit now as fingers -- the palm is theoretically just below.
On trend for major discovery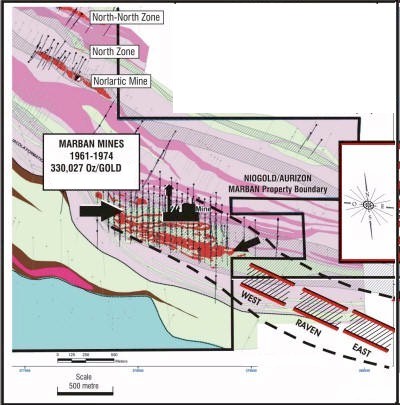 Figure 8. -- RRS.V's mineralized Gold zones (West, Raven, and East) in relation to neighbour: Three past producing mines (Marban, Norlartic and Kierens) on the property adjacent RRS.V's East-West Gold Project had a total historical production of 596,000 ounces of gold. The resource of RRS.V's neighbour currently sits at 1,531,000 oucnes Gold Measured & Indicated (32,127,000 T @ 1.48 g/T) and 599,000 ounces Gold Inferred (16,478,000 T @ 1.13 g/T).
Figure 9. (above) - Section of stripped, washed strike area, and inset of core close-up.
Plans
A mid-2013 NI 43-101 Technical Report was completed on the East-West Gold Project.

Recommendations from this Report Include:

Phase I:
• Complete 3D Model of the Geology and Mineralized Zones
• Commence an 8,000 m drill program on the West zone and a 12,000 m drill program on the Raven zone to a minimum depth of 1,000 m

Phase II:
• Decrease drill spacings at zones identified as high potential during Phase I drill program
• Complete updated NI 43-101 Resource Estimate
------ ------ ------ ------ ------ ------ ------ ------ ------
2) Lac de la Grosse Femelle High-Purity Silica Project, St. Urbain, Quebec - 100% Owned -- 8 claims, 462 hectares (2% NSR)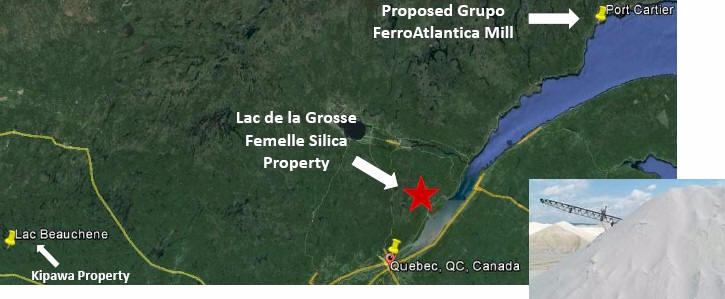 Figure 10. (above) Map of region - The Lac de la Grosse Property is less than 400 m from the proposed Grupo FerroAtlantica Silica Mill. RRS.V's silica property has very good infrastructure support with multiple transportation options (Baie-Saint-Paul on the St. Lawrence River is only 42 km south). The property is easily accessible and and traversable.
High-grade high-purity silica deposits are rare. Uncommon geological formations exist in Quebec that host high-grade SiO2 (with low impurities), and significant investment is being made to advance this sector; Spanish based Grupo FerroAtlantica, one of the largest silicon metal producers in the world, has announced plans for a $382 million silicon metal plant. The Port Cartier Plant will be operational in 2017 and produce 100,000 tons of silicon metal.
Healthy supply - demand characteristics for the commodity
Demand for high-purity silica (used to create fused quartz for high-tech manufacturing such as solar panels, semiconductors, LCD displays, and lithium batteries, fracking, etc.) has risen and this trend is projected to continue. "Tightening supply due to current levels of production in Brazil and China have contributed to price gains." "The increasing demand will sustain these gains and support a further rise in silicon prices through to 2017".
(source: CRU, Silicon Market Outlook Report 2014)
With prices for economic high purity silicon ranging from $130 to >$5,000 per tonne (depending on % purity), it puts RRS.V in play. RRS.V's quartzite silica deposit is top notch/superior grade and purity compared to more prevalent quartz sandstones deposits, the superior nature lends the deposit to specialized high-tech industrial interests, and the proximity of RRS.V's high-grade SiO2 project to the ports of the St. Lawrence make it a coveted asset.
Hosting 98.5% to potentially >99.9% SiO2 - good thicknesses - continuity - and possibility to discover more
A May-2014 Technical Report on RRS.V's Lac de la Grosse Femelle Silica Project references historic sampling and exploration findings (non 43-101 compliant) revealing thicknesses over 200 metres and on average 150 metres, with 275 metres width and a strike length of at least 365 metres. The 'G' lens located on RRS.V's silica property appears to host grades superior to what Sitec is currently mining, the area has not been mapped extensively, and there is the possibility to discover significantly more. Rogue Resource's Lac de la Grosse High-Purity Silica Project hosts zones that were identified as part of a historic (non 43-101 compliant) resource estimate from 1979 that encompassed the project in part -- RRS.V's technical team will be targeting >99.9% purity silica quartzite. The nature of the material allows for low cost exploration, quick to resource, and quick to market.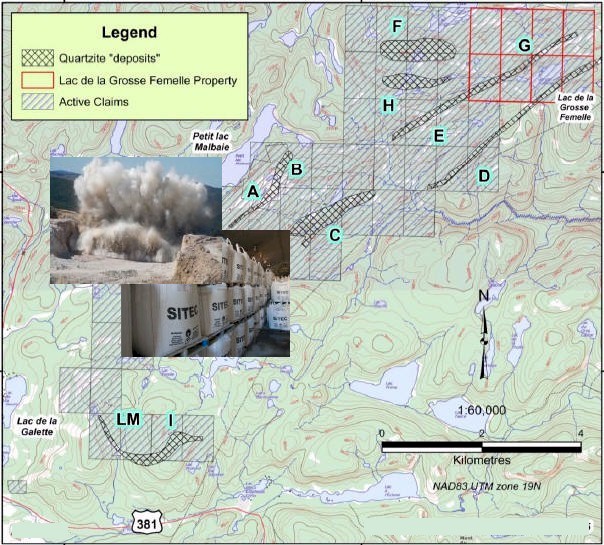 Figure 11. (above) - Map of area, RRS.V claim blocks seen in red -- RRS.V's silica property is located adjacent to the Mine Sitec (A & B in image above) which has been in operation for the past 50 years. In 2012, Sitec produced approximately 250,000 tonnes of silica and estimated future mine life at over 20 years. There are 10 quartz mineral horizons on the Sitec property, four (4) of which strike SW-NE towards the Femelle Property of Rogue Resources, which is adjacent and contiguous to the NE of the Sitec Deposit. Moreover, the Femelle Property hosts 2 quartz mineral lithostratigraphic horizons, which are oriented SW-NE as well.

Related Company news:

• August 26, 2014 "Rogue Resources Closes $2.07 Million First Tranche of Private Placement and Receives Approval to Proceed With the Acquisition of the Femelle Silica Project".

• August 21, 2014 "Rogue Resources Amends Quebec Silica Project Agreement".

• July 30, 2014 "Rogue Resources Announces Acquisition of Quebec Silica Project and $2.5 Million Private Placement".

Excerpt from September 4, 2014 Market Equities Research Report on Silica producers:

Shares of publicly traded U.S. silica producers have been on a tear and select junior miners with solid high-purity silica prospects are apt to rise on news

Bloomberg noted last week that the stock price of publicly traded silica producers have been on an impressive and steady rise (view Bloomberg article here). The growing use of fracking (extracting oil and natural gas from shale formations) has contributed to a surge in share prices of U.S. companies which supply high-quality sand to energy producers. When used in the fracking process, silica helps prop open fractures in shale, which eases the flow of oil and gas. Bloomberg reported that investor demand does not look set to stop anytime soon, quoting "Sand is the new gold" from Ivaylo Ivanov, founder of Ivanhoff Capital. Additionally, Ole Slorer, a New York-based analyst at Morgan Stanley, expects demand for fracking-grade sand in 2016 will be 96 percent higher than last year's level. He expects shortages for years, with supplies in 2016 trailing demand by 10 percent.



A quality grade of silica is required for fracking, however even greater margins are available to silica producers with exceptional grades as high-purity silica is used to create fused quartz for high-tech manufacturing such as solar panels, semiconductors, LCD displays, and lithium batteries.

Noteworthy silica producers on a tear:
Emerge Energy Services LP (NYSE: EMES) is a Southlake, Texas-based partnership that made its initial public offering at $17 a share in May-2013 -- it changed hands for more than $140 last week;

click here to access chart
Hi-Crush Partners LP (NYSE: HCLP), based in Houston more than tripled during the past year;

click here to access chart
U.S. Silica Holdings Inc. (NYSE: SLCA), based in Frederick, Maryland more than tripled during the past 15 months;

click here to access chart
------ ------ ------ ------ ------ ------ ------ ------ ------
3) Langmuir Nickel Project, Timmins, Ontario - 100% Owned,
An advanced-stage nickel project that has received in excess of $7 million in development, contains a sizeable high-grade Ni resource.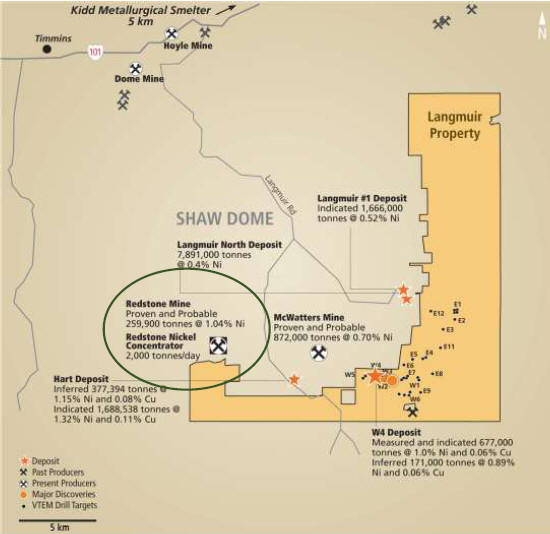 Figure 12. (above) Map -- Langmuir Property is accessible by road and is only 30 km south of Xstrata's Timmins Metallurgical Facility which has an idle nickel circuit. The property is within 3 km of the recently (March 2014) reopened Redstone Nickel Mill/Concentrator, and there are mills in the area which could provide milling solutions.
Langmuir is comprised of 74 contiguous unpatented mining claims of 856 units (13,841 hectares). The Timmins nickel belt is located within an area of excellent infrastructure, including roads and power. The Timmins mining camp provides access to necessary equipment and experienced miners.
Resource Estimate
Rogue Resource geologists and SRK Consulting (Canada) Inc. have modeled the shape and size of the Langmuir W4 nickel deposit and compiled a resource estimate in 2010:
Category
Quantity
Grade
Metal
Tonnes
Ni %
Cu %
Ni lbs 000's
Cu lbs 000's
Open Pit**
Indicated
590,000
0.99
0.06
12,816
840
Inferred
125,000
0.88
0.06
2,437
157
Underground **
Indicated
87,000
1.04
0.08
1,997
149
Inferred
46,000
0.91
0.05
923
53
Combined
Indicated
677,000
1.00
0.06
14,813
989
Inferred
171,000
0.89
0.06
3,360
210
* Mineral resources are reported in relation to optimized pit shells. Mineral resources are not mineral reserves and do not have demonstrated economic viability. All figures are rounded to reflect the relative accuracy of the estimate. All assays have been capped where appropriate.

**Open pit mineral resources are reported at a cut-off of 0.40 percent nickel inside a conceptual pit shell. Underground mineral resources are reported at 0.70 percent nickel and include resource blocks above cut-off outside the conceptual pit shell. Cut-off grades are based on a nickel price of US$8 per pound and a metallurgical recovery of eighty-seven percent, without considering revenues from other metals.
Besides exceptional high-grade Nickel, the deposit also has quality PGM (palladium and platinum) credits; e.g. In May, 2007 drilling by the Company intersected 1.14% nickel over 72.45 metres, including two separate heavily mineralized intervals of 2.23% Nickel (Ni), 0.22% Copper (Cu), 0.20 g/t Platinum (Pt), and 0.50 g/t Palladium (Pd) over 17.50 metres of drill core, and 1.74 % Ni, 0.12% Cu, 0.20 g/t Pt, and 0.47 g/t Pd over 13.10 metres of drill core.

Drilling to date on the Langmuir W4 nickel discovery has established three parallel nickel bearing zones (A, B, C) within altered peridotitic komatitic flows. The nickel sulphide mineralization consists of primarily pentlandite-pyrrhotite occurring as fine disseminations, fracture fillings, and blebs. Higher nickel values of up to 5-7% occur where sulphide concentrations increase to 30 or 35% (semi-massive). Locally massive sulphide sections are present grading up to 17.9% Ni.

The nickel zones range in true width from 2 to over 18 metres and have been followed along strike for 200 metres and to a vertical depth of 250 metres. The A zone comes to surface with only 5 to 10 metres of overburden cover. Thus far the deepest nickel intersection is on the C zone at about 375 metres below surface. All zones are open at depth below 400 m vertical. The zones dip subvertically to the north and may roll and dip toward the south according to geophysics. The big upside potential of the property exists in deep geophysical targets not fully tested with diamond drilling -- there exists the possibility of finding a number of these type of deposits throughout the property.
Figure 13. (above) An Open Pit, 3D Conceptual Model -- this model was built for the Langmuir Nickel Deposit, reducing future timelines for any potential production scenarios. Seen in red in the image above is the high-grade, green is lower, and beige is even lower. Note how much of the high-grade is contained within the actual open pit, you can see the pit shelf at the top of the resource.
Deposit Highlights:
• $7.5M spent, over 18 million pounds of nickel defined
• Over 80 holes drilled on deposit
• Fully operational nickel mill within 3 km
• Upside potential exists in deep geophysical targets not fully tested with diamond drilling

Click to access current spot price

& historical charts of nickel
There have been several publicly traded companies with Nickel deposits which have received favourable market success of late coinciding with related discoveries and/or price increases in the commodity. Balmoral is an example:
Rogue Resources, with exceptional exposure to Nickel via this deposit, is prone to attract increased interest as the underlying commodity price improves.
------ ------ ------ ------ ------ ------ ------ ------ ------
4) Radio Hill Iron Project, Timmins, Ontario - 100% Owned (Interest to earn, in part)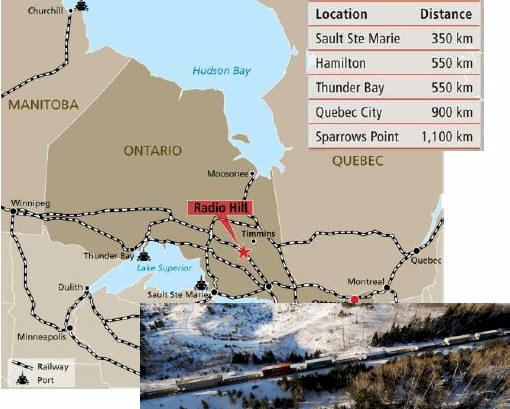 Figure 14. -- Location map -- note ideal access to transport -- .The CN Rail mainline crosses through the property ~3km south of the deposit.
In 1964, the Radio Hill Project was preparing for full production only to be stopped by low iron ore prices.
The historic feasibility showed values that would allow for the commercial production of iron ore pellets, with soluble iron concentration at 68.3%, and low values for deleterious elements. Extensive drilling has been carried out on the project, including 140 drill holes into anomalies. In 2011/2012 RRS.V conducted over 10,000 metres of drilling (when iron prices were riding high) and was entertaining metallurgical testing to take the project to resource. With iron prices low the project is in abeyance. Geophysics indicate the possibility exists for considerable expansion/new discovery.
Bulk sample results from the 1960's:
Concentrate percentages above 65% are generally viewed very positively. The table also shows low values for deleterious elements such as phosphate and manganese, metals also appear very low:
Historic resource estimates (non NI 43-101 compliant) were calculated on the Radio Hill portion only using various pit shells and depths:
Historic Estimate
(acid-soluble iron)
Strip Ratio
Reference
90 mT @ 27.3%
0.99
FENCO, 1965
158 mT @ 27.8%
1.14
Behre Dolbear, 1961
427 mT @ 27.3%
0.77
Gerson, 1961
326 mT @ 25.7%
0.69
Pesonen, 1960
Airborne geophysics
Figure 15. (above) Geophysics - The potential for resources expansion exists at the 12 km long Nat River Formation. To date, only 6 drill holes have been completed on.
Figure 16. (above) Outcrop at Radio Hill Iron Project
---
Rogue Resources'
Management, and Governance
Skip to top
The current management team and board of directors has a well rounded combination of people that each contribute expertise in disciplines necessary for a successful mining entity:
John de Jong, President, CEO and Director
Mr. de Jong's career in mining has included overseeing mining, milling and exploration projects in Québec, British Columbia and the Yukon for several companies in the capacity of Project Manager and CEO. Mr. de Jong is the former CEO and President of Integra Gold Corp. and has also worked as a management consultant advising TSX-V listed companies in areas of business and corporate development and as director for a number of junior mining companies.
Stephen de Jong, BComm., Director
Mr. de Jong has held several senior management and advisory positions in publically listed Canadian mineral exploration companies successfully leading their recapitalization and restructuring programs. As CEO and President of Integra Gold Corp., Mr. de Jong continues to prove his ability to finance mineral exploration through periods of weak metal prices and low investor sentiment. He is recognized by Canadian and overseas financial sectors and junior and senior mining executives as a person with integrity, superior management skills, and one who can attract and build a strong and capable team Mr. de Jong holds a Bachelor of Commerce degree from Royal Roads University and is also a Director of Rapier Gold Inc.
Peter Campbell, P.Eng., Director
Mr. Peter S. Campbell, P.Eng is Chairman, Managing Director and Head of Research at Jennings Capital Inc., Research Division. He has 25 years' experience in the mining and geology business as a professional Mining Engineer with an in-depth global mining background, strong technical expertise and proven project management experience. Mr. Campbell's experience encompasses the complete spectrum of project stages from grass roots and advanced exploration through to feasibility and mine production. He has a strong interest in financial modelling, portfolio risk management, project valuation, and capital investment decisions. Mr. Campbell was an Exploration Manager at Xstrata, where he worked on various aspects of world-wide exploration projects involving exploration for Ni, Cu, and Cu-Zn deposits.
Ms. Gordana Scekic, BSc, CGA, CFO
Ms. Scekic is a Certified General Accountant with a Bachelor of Science in Economics who has worked exclusively in the mineral exploration industry since 2005. Ms. Scekic has an extensive and diverse professional background in financial reporting, analysis, and budgeting, as well as establishing and supervising accounting departments. She has worked in the financial field as an Investment officer, Chief of a Financial Department, and Chief Accountant. Currently, Ms. Scekic works as a Senior Accountant for several publically traded mineral exploration companies.
Note: This list is not intended to be a complete overview of Rogue Resources Inc. or a complete listing of Rogue's projects. Mining MarketWatch urges the reader to contact the subject company and has identified the following sources for information:
For more information contact Rogue Resources Inc.'s head office at: Ph (604).629.1808
Company's web site: www.RogueResources.ca SEDAR Filings: URL
Welcome to Mining MarketWatch
We provide insight into resource companies, many which are so often overlooked gems and can provide exceptional potential to richly reward investors. The companies we select offer outstanding properties, management and experience in the mining/exploration industry.
Sector Newswire
TM
Editorials:
Sector NewswireTM Top News Stories: