Feature article October 18, 2019:
Arctic Star Advancing Timantti Diamond Project in Finland
"Arctic Star is now in the center of what could continue into a Tier 1 diamond discovery at Timantti."
Arctic Star's 2019 Kimberlite Exploration Program in Finland is currently underway; Multiple backhoe trenchable kimberlite targets next to already discovered diamondiferous kimberlite bodies. This July 16, 2019 Arctic Star confirmed it has discovered more kimberlites, by excavator -- laboratory analysis is pending.
Arctic Star

Exploration Corp.

(TSX-V: ADD) (US Listing: ASDZF) (Frankfurt: 82A1)
Share data, Capitalization, & Corporate info
Shares Outstanding: ~130 million
Fully Diluted: ~176 million
Recently Traded: ~CDN$0.04/share (TSX-V: ADD)
52 Week High/Low: $0.115/ 0.02
Current Market Capitalization: ~$4 million Canadian
Corporate Website: www.arcticstar.ca
Timantti Project, Finland (100%-owned); advancing the recent discovery of a cluster of diamondiferous kimberlites with large upside / world-class potential.

Experienced management, and skilled technical leadership; taking point for Arctic Star Exploration Corp. are the same individuals that as lead exploration geologists discovered the Diavik diamond mine in Canada, and the Grib diamond mine in Russia.
Click here to view recent site visit report on Timantti Diamond Project in Finland published July 3, 2019.
Valuation Commentary: Arctic Star Exploration Corp. (TSX-V: ADD) (F: 82A1) (US Listing: ASDZF) is a Canadian-based diamond exploration mining company focused on advancing its flagship 100%-owned Timantti Property in Finland, located 17 km from the town of Kuusamo, and only ~450 km SE of the multi-billion dollar producing Lomonsov and Grib diamond mines in Russia. 'Timantti' is the Finnish word for diamond, and Arctic Star is now in the center of what could continue into a Tier 1 discovery. The large land package consists of a 243 hectare Exploration Permit and a 193,700 hectares Exploration Reservation. The caliber of the exploration professionals that are associating themselves and reputations to the project is impressive, they include the former lead geologists that discovered Diavik diamond mine in Canada, and the discovered nearby Grib diamond mine in Russia.
Arctic Star has already proved-up three diamondiferous kimberlite bodies within the Exploration permit, named White, Black and Grey Wolf, respectively, and three kimberlite dykes. Following caustic fusion processing 1,746 diamonds were found in 987.06kg of samples from four kimberlites, and curve analysis yields +1.18mm stones in each kimberlite. Three of the kimberlites, known as 'the three wolves', are within 300 metres of each other, they were found under only 1 to 3 metres of overburden, only a few hundred metres off the highway, and adjacent to power. Analysis of the distribution of microdiamonds from caustic fusion of samples from Arctic Star's best grading kimberlite structure, named the White Wolf, yielded ~0.7 carats/T (+/- ~20%) commercial stones, an earmark of if not a future mine on its own, certainly part of a future mine. The Company's 2019 exploration plan is to prove the Timantti Project has world-class size potential by confirming more kimberlites; the exploration team will be testing several near-surface anomalous targets that are so apparently indicative it is difficult to think what else the anomalies could be other than more kimberlite bodies/pipes.
Figure 1. (below) a)(left) -- Location of new kimberlites on Arctic Star's Timantti,
b)(right) -- Location map, note same geological belt as Grib & Lomonosov mines.
Exceptional infrastructure: Arctic Star is able to explore for diamonds at Timantti for ~1/3 the cost of what most others spend in elsewhere due to the projects location proximal to exceptional infrastructure (roads, airport, town, power). There are regular flights from Helsinki to the local town of Kuusamo (population ~16,000); its possible to take a taxi from the airport to Arctic Star's first kimberlite discovery in ~20 minutes. Additionally noteworthy, in 2018 two of the kimberlites were discovered simply by excavating anomalies with a backhoe.
Arctic Star Begins 2019 Kimberlite Exploration Program: (see related April 3, 2019 news release here) The 2019 exploration program is designed to locate further kimberlite discoveries. Kimberlite is volcanic rock which hosts diamonds and predominantly occurs in groupings averaging a minimum of 30 pipes. There is considerable evidence that there are further kimberlites within the company's exploration area as till sampling shows a distribution of diamond indicator minerals pointing to additional sources. Also, over thirty magnetic anomalies that may represent kimberlites have been identified and prioritized within a 3km radius of the Wolf kimberlites. Initially the exploration work will consist of ground magnetic surveys over the priority targets, followed by trenching over the anomalies using an excavator. Arctic Star was successful in locating kimberlite using these methods in 2018, and there is every reason to expect this success can be continued in 2019. Kimberlite that does occur in the trenches will be sent for caustic fusion to determine micro-diamond content. Results of the excavation program will be disclosed as information on the testing of targets becomes available. Kimberlites with significant diamonds will be slated for diamond drill testing to determine size, and promising magnetic anomalies that could not be trenched due to till depth will also be drill tested later in 2019. Once Arctic Star has determined that most of the kimberlites in this new field have been tested for microdiamond content, the company plans to conduct bulk sampling on the most promising diamondiferous kimberlites, which will better define the grade and give a view of the average price of the commercial size stones.
EXPLORATION UPDATE: This July 16, 2019 Arctic Star confirmed it has discovered more kimberlites, by excavator -- The geological firm GTK has confirmed the presence of garnets and pseudomorphs of olivine in samples from the new kimberlites. These new kimberlites appear similar in colour and makeup to ADD.V's diamondiferous Wolf kimberlites. Laboratory analysis is pending.
MAJOR SHARE PRICE CATALYST POTENTIAL: The two new kimberlites are located near where the Company had Vasa kimberlite dyke discoveries a year or so earlier, near where the Company had registered one of the best chemistry samples that the geological team had ever taken anywhere in the world. The Vasa dyke did NOT match the strong chemical sample, which is good as such a chemical signature should have yielded much more robust diamond count, THE WORKING THEORY IS THESE TWO NEW KIMBERLITE ARE THE SOURCE. The two new kimberlites, given the ice direction, are dead in front of the aforementioned sample. Right now Arctic Star has samples of both of those new kimberlite in the lab, doing mineral work on it, and if it matches up with the aforementioned exceptional sample, which is only ~100 m sitting in front of the two new kimberlites – look for fireworks under the share price of ADD.V as it will reflect extremely well for diamonds.
ADD.V poised for upside revaluation: Currently trading with a miniscule market cap of only ~C$4 million, the share price of Arctic Star Exploration Corp. is apt to rise near-term to better reflect the inherent value of its recently discovered diamantiferous kimberlite clusters at the Timantti Property and its potential. The missing ingredient that is holding the share price of ADD.V back is the streets need to see size/tonnage potential, something the Company's geological exploration team is confident it can deliver this 2019. The markets are tougher on diamond exploration stocks now than in the past due in-part to the fact there has not been a new world-class diamond discovery made since 1990. If this was the 1990s and Arctic Star had done what it has done lately at Timantti, the share price of ADD.V would likely be over $3/share already. Purchasers of ADD.V now are getting a deal on shares. Kimberlite structures are rare -- the discoveries to date have mitigated the project risk, with weak hands now out of the stock, and the geological team dialed-in, it won't take much in terms of news flow to attract majors, serious money, and street attention that will jump the share price of ADD.V as the 2019 exploration season advances.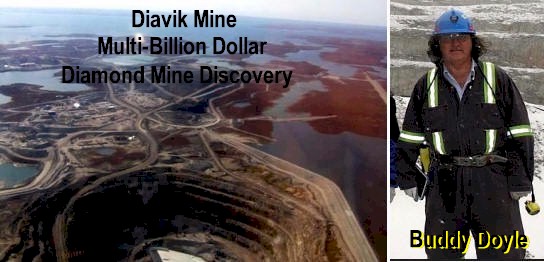 Figure 2. (above) Diavik Mine, and Arctic Star's VP of Exploration, Buddy Doyle, he was lead geologist on the Diavik discovery. Diavik has produced over 100 million carats since 2003. Diavik is operated by Rio Tinto and sold 40% to the Washington Group for $1.2B.
Arctic Star's exploration team is aiming to hit a home run this 2019:
Arctic Star's exploration team is lead by Buddy Doyle (VP of Exploration and Director) -- Buddy Doyle was the lead exploration geologist that took the Diavik Mine in Canada from discovery through to ribbon cutting. He then stayed on for a term at Diavik during operations as the Senior Exploration Geologist, serving a total of 23 years with RioTinto. He also has other multi-billion dollar discoveries of significance under his belt as well, see his CV at the bottom of this article.

Also taking point as Country Manager in Finland for Arctic Star is exploration geologist Roy Spencer (Director). Roy Spencer was the leader of the team that discovered the nearby Grib Diamond Mine across the boarder in Russia, which is in the same geological setting as Arctic Star's Timantti diamond project.

Figure 3. (above) Grib Mine and Roy Spencer. Otkritie Industrial Investments purchased Grib for 1.45B. AGD Diamonds recently consolidated with Otkritie .
Two recent interviews of Artic Star Exploration Corp. President and CEO Patrick Power
April 2019
Above: April 2019 Interview video, [share URL https://youtu.be/0iJYdUMnWdc ]
May 2019
Above: May 2019 Interview video, [share URL https://youtu.be/BVoOd45uPvk ]
Noteworthy insight from above interviews on the 100%-owned flagship Timantti Diamond Project in Finland:
Arctic Star's Timantti Property is part of the Karelian Craton, same as the Grib Diamond Mine in Russia.

One of Arctic Star's Directors and head of the program is Roy Spencer, he is responsible for having discovered the Grib Diamond Mine and is looking to replicate that success now at Timanti.

There are excellent mineral trains leading into Arctic Star's ground. The chemistry of the Timanti property is similar to Grib.

Arctic Star is able to explore for diamonds at Timantti for less than what most others spend elsewhere due to the projects location proximal to exceptional infrastructure (roads, airport, town, power). It is possible to take a taxi from the airport to Arctic Star's first kimberlite discovery in ~20 minutes. Additionally noteworthy, is that kimberlite bodies have been discovered simply by excavating anomalies with a backhoe.

Current program has ADD excavating kimberlite targets. Any targets will be followed up with drilling to delineate and have core that can undergo caustic fusion.

Quote: "Last year's fusion program, which was only 409 Kg, which is kind of akin to a little coffee table in size, produced 1300 diamonds, and some of those were commercial size – which was exciting, because it was a very small sample. The diamond curves for White Wolf in particular are very good and its not about discovery anymore -- it's about building tonnage. So, we're really at a really critical point, this program could produce new kimberlites that can give us tonnage – we have a minimum tonnage we can move forward at, so we're getting close to that."

The Spring breakup is expected to result in Arctic Star excavating kimberlite targets in the last week of May. Unique to the Timantti Diamond Project is the ability of Arctic Star to discover kimberlites with the use of backhoe, as targets are near surface under nominal overburden.
Indicators run high for additional new kimberlite discoveries at Timantti
Kimberlites are likely to occur in fields (a.k.a. clusters), which typically contain 30 or more separate kimbelites. The Wolf kimberlites are just the first discoveries in a more extensive cluster.
The 2018 works program involved ground geophysics (magnetic, gravity, and EM surveys), excavator till sampling (20 Samples ~50lbsm, and they drilled ~600m yielding 4 diamond bearing kimberlites.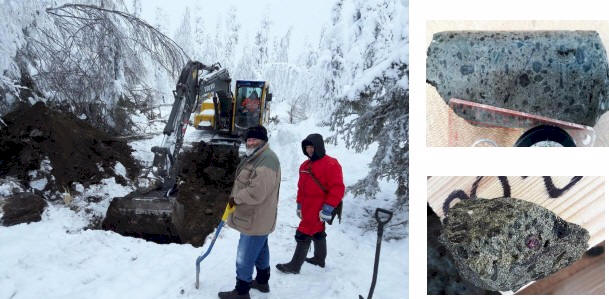 Figure 4. (above) -- Imagery from 2018 exploration program.
Figure 5. a & b (above) -- location of three wolves and synopsis of drilling which has Arctic Star has conducted.
The Three Wolves kimberlites discovered by Arctic Star are not classic Kimberlite pipes. They were initially drilled in the middle assuming they were classical pipes, however the current interpretation is they are part of a dyke, sill system, relatively thick 30m to 35m wide dipping to the North @ 35 degrees. There is evidence this sill system continues and Arctic Star has an opportunity to build kimberlite tonnage at the Wolves, similar to how tonnage was built at Snap Lake, but here Arctic Star has a much thicker sill system.
Figure 6. (above) -- White Wolf 2018 diamond results.
Gem quality stones in the commercial size: Caustic fusion of White Wolf's kimberlite generated excellent results. Caustic fusion is a process whereby the kimberlite is split, half is kept for reference, and the rest is sent to the lab (there are only 3 in the world; two in Canada and one in South Africa). At the lab the kimberlite is dissolved in extremely hot caustic soda leaving only diamonds remaining. The distribution of microdiamonds in the sample can be plotted and the dots form a curve from which a bi-polynomial expression projects the curve into a large diamond space. This is a technique Buddy Doyle used at Diavik with great success. Analysis shows White Wolf is yielding ~0.7 carats/T commercial stones (+/- 20% to 25% -- this number will become better refined as a larger sample size is processed). It is too early to tell diamond prices as a statistical cloud size is needed, however Arctic Star has 60% white stones in the microdiamonds (anything above 30% is good).
Figure 7a. (above) -- Grey Wolf, Black Wolf, and Vasa Dykes 2018 diamond results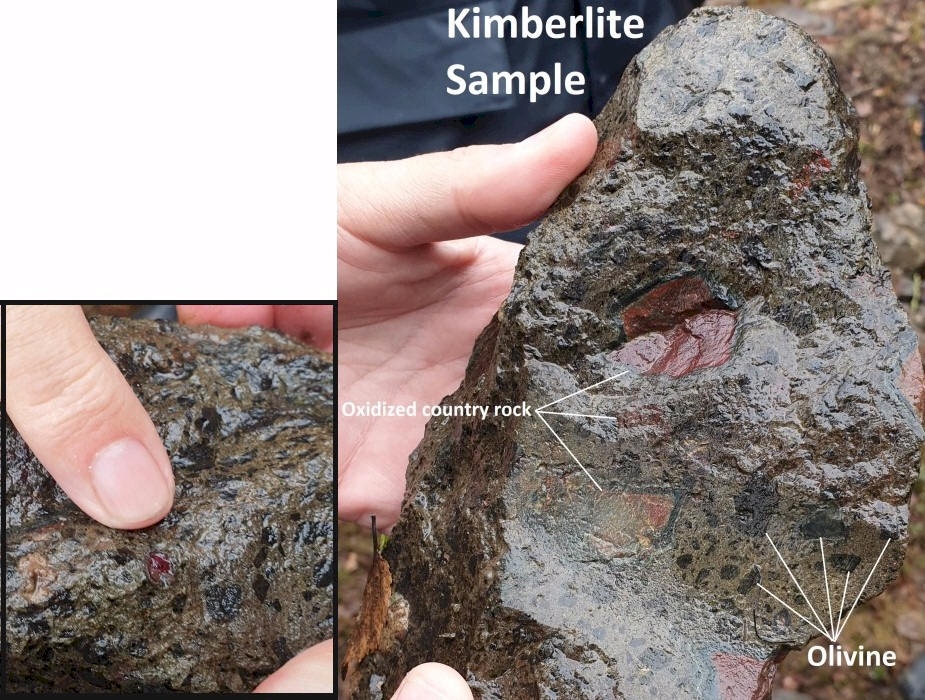 Figure 7b. (above) Sample kimberlite from recent site visit (full site visit can be see here): Associated commentary "A fairly large pyrope-garnet crystal in kimberlite matrix found near surface at the Grey Wolf Kimberlite during the site-visit. Olivine is a common mineral in the earth's subsurface and the primary component of the earth's upper mantle some 150 km below surface, where diamonds also originate from. Olivines and diamonds are carried from the upper mantle toward the surface by the kimberlite magma, finally erupting as small volcanoes whose remnants are referred to as kimberlite pipes. The back side of the kimberlite sample shown above included a pyrope-garnet. As you can see in the above picture, there are not only plenty of olivine crystals in the kimberlite but also pretty big ones, which is an indication that diamonds with similar sizes may be present, scattered throughout the kimberlite body. Consequently, diamond explorers must do bulk sampling of many hundreds to thousands of tons of kimberlite to get an indication of the diamond size distribution within the kimberlite body."
Highly prospective for additional diamond discovery of significance at Timantti:
The indicators being found can't be explained by the discoveries so far, there is obviously lots more kimberlite to be discovered, and Arctic Star's geological team knows exactly where to look.
Figure 8. a & b (above) Left: Annotated location map of Arctic Star's Timantti Land Package, Right: Sample sites with indicators. Historic public data and recent till samples taken by Arctic Star show a clear dispersion trains of diamond indicator minerals east of Kuusamo. The Known Kimberlites discovered to date can not explain all the indicator minerals, proof that there are more kimberlites to be found. Red Dots, are sample sites. Red Circles show samples with positive results, the larger the circle the more indicators in the sample.
Timantti - New Targets

Figure 9. a & b (above) New targets -- Left (above): Annotated UAV Mag survey; Arctic completed a 600 km2 UAV magnetic survey in the Summer-2018, adding to its Winter ground Mag. Greenstones belts and gabbro sills dominate the image as long linear Mag highs. Seen in the image are some of the new targets highlighted with arrows, those are kimberlite targets. Kimberlite targets in the quartzites tend to stand out.
Right (above): Annotated survey showing nanoteslas (nT). 38 New untested drill targets for 2019. Red arrows point to the top priority targets. As little as 1-3 m overburden. The Wolves seem to form an East-West trend (Wolf Cubs). The plan is to begin excavator sampling in March 2019, drill testing in June 2019.
The certainly level runs high: One section of the survey shows a trending line of anomalies that appear similar in structure that typify kimberlite. The anomalies continue for another 1.5 km. Elsewhere Arctic Star has intense anomalies in the 1000s of nT, then there are anomalies in the 100s of nT that are key, likely very quartzite -- the targets Arctic Star is going for are along the Wolf trend and they are sort of circular, 100m wide, Lac De Gras/Diavik-style sort of targets in the quartzites. It begs the question "What else would intrude the quartzite and be 100 nT?" -- the logical answer is kimberlite (nothing else makes sense).
Figure 10. (above) -- Mag filter designed to highlight kimberlite like targets. Boxes highlight targets in new Exploration permit (note: one of the targets is ~200m across, looks dumbbell shaped, which kimberlite often looks like). Blue arrows show targets in current permit.
------ ------ ------ ------ ------ ------ ------ ------ ------
Exploration Update details
The following is excerpt copy of July 16, 2019 news release of exploration update from Arctic Star:
Arctic Discovers More Kimberlites, By Excavator, Timanti Project, Finland
July 16th, 2019 – Vancouver, British Columbia – Arctic Star Exploration Corp. ("Arctic Star" or the "Company") is pleased to announce that recent trenching work by excavator on its Timantti project, Finland, has resulted in the discovery of two new kimberlites.

These kimberlites occur near the Vasa dykes also discovered by Arctic Star by excavator in 2018 and located 2 kilometres north of the Wolf (Black, Grey and White Wolf) kimberlites.

The recent excavator has exposed 2 new heavily weathered clayey kimberlite bodies both less than 1.5 metres from the land surface in a heavily forested area. The bodies are located approximately 140 metres (named the "Plug") and 450 metres (named "Karhu") respectively west of the 2018 Vasa dyke discoveries and do not appear to be physically connected to these dykes. The Karhu ("bear" in Finnish) discovery has been confirmed as kimberlitic by the GTK (Geological Survey of Finland) scientists in Helsinki whom the company has engaged to assist in the exploration programme. Final confirmation of the Plug body awaits GTK confirmation and laboratory analysis.

The Karhu body comprises yellowish coloured clayey kimberlite (yellow ground) and had previously been identified as a target in the detailed ground magnetic surveys undertaken by the company's geophysical consultants. This yellow ground is very similar to that encountered at the Wolf Pack bodies to the south. The GTK scientists have confirmed the presence of garnets and pseudomorphs of olivine in the sample.

The yellow clayey material recovered from the Plug body appears to be identical to that found at Karhu and the company geologists are confident this is also a new kimberlite discovery.

This phase of the trenching programme has involved the digging of a total of 7 individual trenches covering approximately 400 metres of excavations. A total of 17 samples have been collected from these trenches, 2 from the Karhu and Plug bodies, and a further 15 from other clay rich zones also discovered in the trenches. All 17 samples will be sent to a local laboratory for detailed geochemical analysis. These samples are in transit to Helsinki.

These discoveries occur "up ice" of an anomalous till sample that contains numerous indicator minerals where electron micro-probe results have indicated high potential for diamondiferous source rocks up-ice. The chemistry of the indicator minerals extracted from the diamondiferous 2018 Vasa Dyke discoveries did not match the chemistry of this till anomaly and the source of the high-quality indicator minerals remained to be discovered. This indicator mineral mismatch was thus strong evidence for the presence of as yet undiscovered kimberlites up-ice of the Vasa dykes, and explaining why the company has persisted in exploring in this area. The company is now waiting to find out if these new kimberlite discoveries echo the chemistry of the positive till anomaly.

These new discoveries further serve to confirm that Arctic Star is dealing with multiple kimberlite occurrences in a field and bodes well for more discoveries.

The current excavator work will continue into early August and will be followed up with ground geophysics and drilling.

The company is strategically planning to do more work through the fall to search for additional kimberlites and to define the size, shape and diamond content (with caustic fusion analysis) of these latest discoveries.

Mr. Buddy Doyle said, "I continue to be amazed that we can discover kimberlites using the very inexpensive excavator technique. This is the most efficient diamond exploration work I have been involved with in my 38 years of looking for economic diamond deposits. I thank our team in Finland led by Roy Spencer for their continued efforts."

The Qualified Person for this news release is Roy Spencer, Fellow AUSIMM, a Geologist of over thirty years' experience in diamonds.

About Arctic Star

The Company owns 100% of the recently acquired Timantti Diamond Project including a 243 Ha Exploration Permit and a 95,700 Ha Exploration Reservation near the township of Kuusamo, in Finland. The project is located approximately 550km SW of the operating Grib Diamond Mine in Russia. Arctic has commenced its exploration in Finland on the Timantti Project, where four diamondiferous kimberlite bodies may represent the first discoveries in a large kimberlite field. The Company also controls diamond exploration properties in Nunavut (Stein), the NWT (Diagras and Redemption) and a rare metals project in BC (Cap).

Arctic Star has a highly experienced diamond exploration team previously responsible for several world class diamond discoveries.

ON BEHALF OF THE BOARD OF DIRECTORS OF ARCTIC STAR EXPLORATION CORP.

Patrick Power, CEO, President
+1 (604) 218-8772
ppower@arcticstar.ca
...click here for full copy from source
------ ------ ------ ------ ------ ------ ------ ------ ------
Insight -- Status of the Current Diamond Market
Chart 1. (Above) -- Global supply peaked in 2006 with 176 million carats mined -- a level that will probably never be exceeded again -- before falling sharply through the global financial crisis. Since then it's edged consistently higher amid a steady stream of new projects. Now, few new mines are scheduled, and some of the industry's old workhorses are set to close early in the next decade. Two Separate Reports see Diamond Market Flipping to Deficit in 2021: Entering April-2019 Berenberg Bank analysts said "Rough diamond prices will remain flat for the next two years, followed by a nominal gain (sub-1%) in 2021. ... Prices for rough diamonds will start to improve in 2021-2022", said Berenberg's Richard Hatch. Also entering April-2019 Analyst Kieron Hodgson of Panmure said "there may be a deficit of 15 million carats, or about 10 percent of global supply, in 2021."
Zimnisky Global Rough Diamond Price Index
Chart 2. (above) Zimnisky Global Rough Diamond Price Index. Commentary: Gains made in early 2018 have been lost in the later part of that year, stabilizing now. Most of the price pressure is in the 'small good', less than 3 pointers (0.3 carats). Mainly due to producers reprocessing old tailings where smalls dominate, therefore short lived. USA & China demand strong.

World Diamond Production Forecast
Figure 11. (above) -- World Diamond Production Forecast (Source: Bain & Company published December-2018).
Shortfall in global new rough diamond supply growing; The above annotated chart of World Diamond Production Forecast shows a growing shortfall.
The world consumes 127 million carats of rough diamonds per year. That's equivalent to the reserve of a medium size diamond mine per year (127 million carats is ~ the original reserve of the Diavik Mine -- the world consumes a Diavik Mine every year). The problem facing the industry supply chain now is that there is no new supply being discovered and mines are closing:
Argyle diamond mine is scheduled to close 2020.

Udachnya and Mir diamond mines have recently closed (Mir cannot go underground due to natural gas seepage into mine).

Very little global diamond exploration since the 2008 GFC.

No new significant discovery since 1990's.
Note on synthetic (artificial) diamond market: The artificial market is being relegated to junk status and not impinging on natural market.
Demand for synthetic diamond production in 2018 was ~7M carats. Compare that to natural demand (of ~130M carats), as a portion of the market synthetics is small. Synthetics have been around for a while, however they have gotten better of late. Debeers and the Geological Institute of America have deployed detection instruments in every reputable jewelry store in the the world -- so you can tell the difference. In order to speed the departure of the artificial market piggybacking off of the natural market, and relegate it to a separate market, in November 2018 DeBeers began producing their own synthetics on their own patented equipment/process, and they are pricing way low -- making a separate market. Simply look to rubies, emeralds, and sapphires -- they have had very good synthetics since the 70s and they are separate markets (one can go into a lapidary store and buy a thumb-size artificial ruby for $70, whereas a thumb-size natural ruby would be $multi-millions).
Diamond Pipeline - Producers have the highest profit margins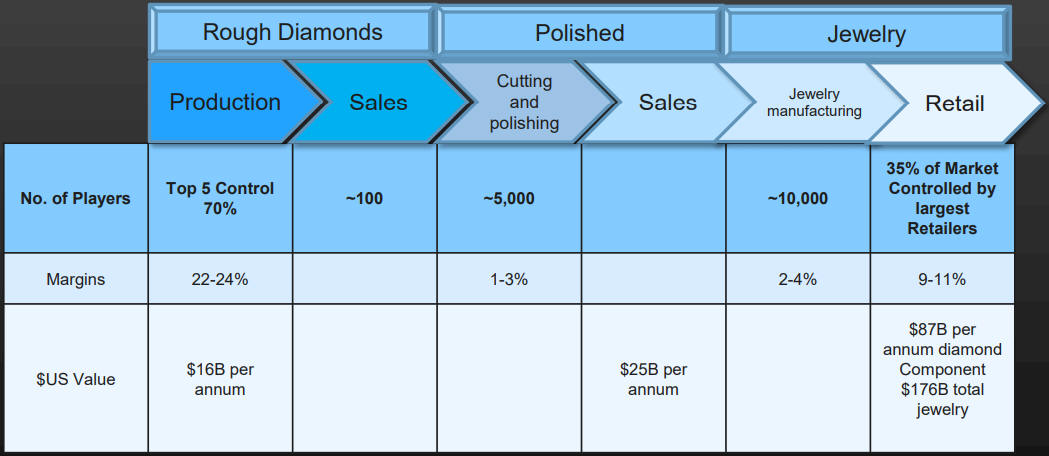 Figure 12. (above) Diamond Pipeline (source of data: Bain & Company) -- The table shows where the money goes between mining and getting a very nice ingot. The big takeaway from a review of margin data is that its a producers club; diamonds are one of the only mined commodities where producers set the price, not the buyers. Diamonds are not industrial driven like most other mined commodities. Large stock piles have been gone since the mid-90s. Occasionally the producers will ring up each other "We are going to hold back on X-size group, we are seeing weak prices", and those diamonds will get stored at the mine site. This is a healthy mechanism for the producers as it would be irresponsible to flood the market. If one or two sites hold back on supply of a size, the price comes back.
Exploration Steps to Production
It is a quantum leap to do the bulk sample, so Arctic Star wants to bring as much selection of kimberlite to that quantum leap before it makes it.
Figure 13. (above) Exploration Steps to Production -- Arctic Star is currently at the 'diamond' phase of the above illustration, before bulk sample. Since they know there are more kimberlites they can prove up, they want to find them and bring them all to the diamond phase. Doing a bulk sample on several sources of material is much more economic and mitigates risk. A decent bulk sample would involve producing 1,000s of carats and cost a few million. The plan is to get ~400 kg from each kimberlite discovery (150 - 400 kg of microdiamonds), line them up and see which are the best and bulk sample 4 or 5 of them all at once. Once Arctic Star has done that they are almost at prefeasibility study. Unlike finding gold, which can be nebulous, a geologist can easily identify kimberlite and the tonnage can be calculated quickly. Because each stone has its own price, each kimberlite is unique, so a fairly big fingerprint of diamonds is needed in order to know the average price of the diamond per carat before an economic study can be performed.