Figure 1. Subject Company's Logo
Alexandria Minerals Corporation (TSX-V: AZX)

Alexandria Minerals Corporation is Canadian based mineral exploration mining company listed on the TSX Venture Exchange (ticker symbol AZX). The Company has come to our attention due, in part, to the exceptional opportunity afforded shareholders as AZX.V is advancing one of the largest properties along the Cadillac Trend in the prolific Val d'Or, Quebec, gold mining district.
Alexandria's 35km-long Cadillac Break Properties - Quebec - 100% Owned, ~variable NSRs (in parts) ~2%, ~12,000 Hectares
Located along the Cadillac Trend, within the Southern Abitibi Greenstone Belt which has seen over 170 million ounces of Gold production history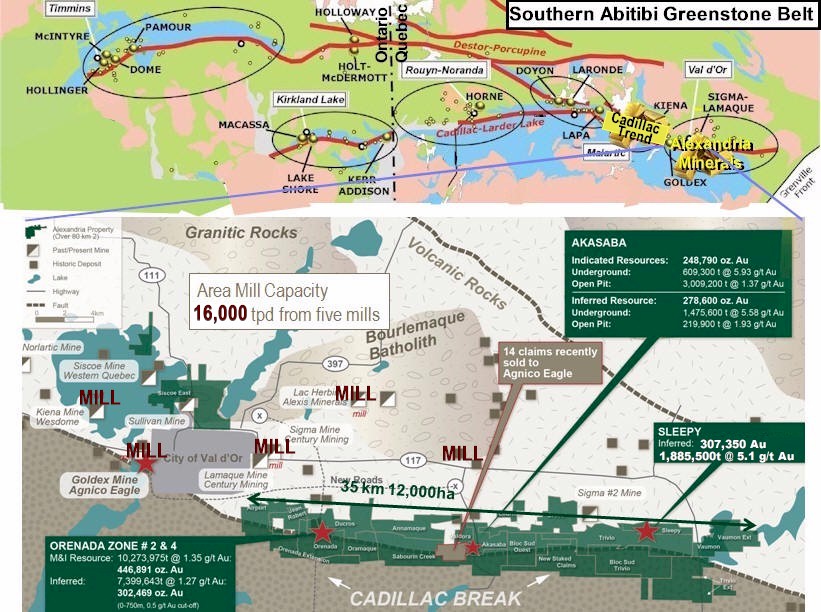 Figure 2. (above) Map of Abitibi Greenstone Belt (top image) and AZX.V's Cadillac Break Property (lower image): AZX.V currently has global resources totaling 1,426,932 ounces gold (695,524 ounces Measured & Indicated and 731,408 ounces Inferred) on three 100% owned projects proximal to infrastructure-rich Val d'Or where 4 gold mills with excess capacity are within 15 km. The 14 (West Zone) claims AZX.V sold to Agnico Eagle this Q1 2014 are shown in grey in the image above.
Region and Infrastructure
Located along the prolific Cadillac Trend in the prolific Val d'Or, Quebec, gold mining district
Figure 3. (above) Map of Val d'Or-Noranda: Canada's Greatest Gold District -- 70+ million ounces Gold produced, and 25+ million new ounces discovered since 2003.
With 4 feed-hungry mills within 15 km, the infrastructure surrounding AZX's claims is highly favourable -- Agnico Eagle purchased AZX's West Zone gold deposit this Q1 2014 because the infrastructure to put it into production is in place. Agnico Eagle has a heavy-duty road that runs just north/behind AZX's Akasaba (and the now sold West Zone), the road was designed to transport ore and slurry to and between local mills. AEM will use the West Zone gold deposit as feed for its 8,600 TPD Goldex mill, which it was only operating at ~4,000 TPD -- the feed will take Goldex to 100% capacity.
Quebec is unanimously agreed in the mining community to be a stable, mining friendly region and is ranked as a top-tier jurisdiction by the Fraser Institute. Because of incentives offered by the government of Quebec, for every $1 that Alexandria Minerals invests in exploration and underground development, the Company will receive ~$0.30 in the form of a tax credit.
Breakdown of current resources of Alexandria Minerals on its 3 main projects
Deposit
Measured and Indicated
Inferred
Date
Cut-off Grade
Tonnes
Grade (g/t Au)
Au (oz.)
Tonnes
Grade (g/t Au)
Au (oz.)
Akasaba Underground
2.25
609,274
5.93
116,158
1,475,622
5.58
264,886
Feb. 2013
Akasaba Open Pits
0.50
3,009,214
1.37
132,475
219,882
1.93
13,653
Feb. 2013
Orenada
0.50
10,273,975
1.35
446,891
7,399,643
1.27
302,469
Sept. 2009
Sleepy
2.00
1,557,000
3.00
150,400
Oct. 2009
Totals
695,524

731,408
AZX.V's plan is to advance its 3 existing gold deposits (listed above) to marketable status for monetization at local feed-hungry mills, and do what it does best -- discover more new gold; the Company's confidence level is high as it steps out and tests potential multi-million ounce gold targets going forward.
Below is an overview of each project and the bigger targets:
Akasaba Project (& adjacent Valdora Project) - 100% Owned
The Akasaba Project currently has a resources of:
248,790 oz. gold Indicated;
Indicated open pits = 132,475 oz Gold (3,009,214 Tonnes @ 1.37 g/T)
Indicated underground = 116,158 oz Gold (609,274 Tonnes @ 5.93 g/T))
&
278,600 oz. gold Inferred;
Inferred open pits = 13,653 oz Gold (219,882 Tonnes @ 1.93 g/T)
Inferred underground = 264,886 oz Gold (1,475,622 Tonnes @ 5.58 g/T))
AZX.V's current Akasaba resource is delineated around a past-producing mine from the early 60's which historically produced 40,000 oz. of Gold at 5.14 g/t. After AZX.V delineated its first resource on Akasaba it turned its attention to stepping out and discovered the adjacent West Zone, which it has since sold to Agnico Eagle for $5 million plus a 2% NSR to AZX (see transaction details in related press release dated January 14, 2014 entitled "Alexandria Sells the 14 Claim West Zone Property to Agnico Eagle for $5 Million - the NSR to AZX.V can be reduced to 1% by paying Alexandria an additional $7 million and providing AEM with the right os first refusal on the sale of the remaining 1%").
Figure 5, (above) AZX.V's Akasaba, Valdora and adjacent ground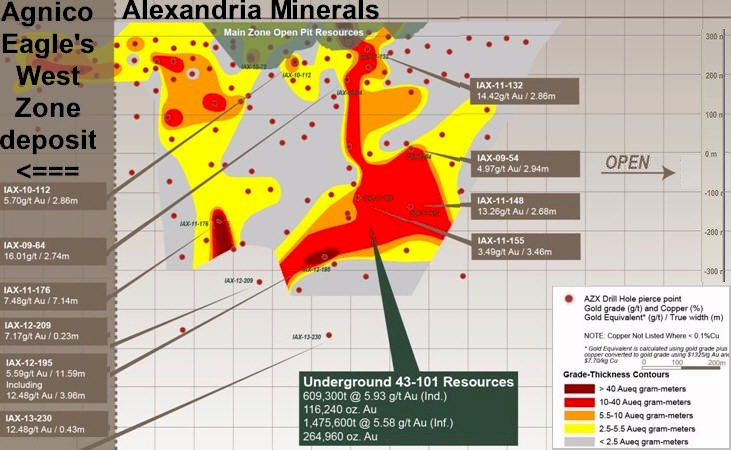 Figure 6. (above) Akasaba Longitudinal Section – AZX.V still maintains 100% of the main mine area (only the 14 adjacent West Zone claims were sold, that claim line begins on the dotted grey line on the left of the image above). Akasaba possesses substantial near-surface and in depth growth potential. Akasaba's main high grade zone is open at depth, deposit is open along strike to the east.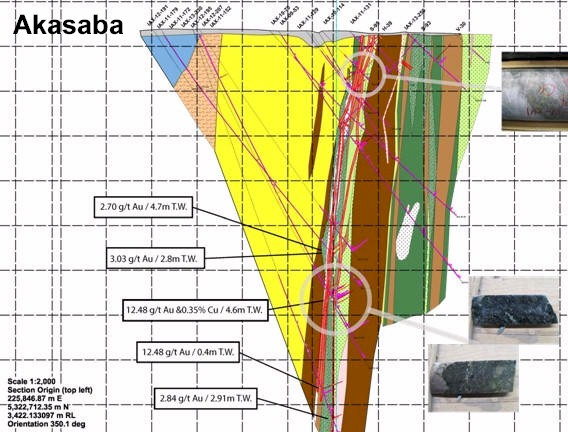 Figure 7. (above) Akasaba -- Greenstone belts typically run deep, there are mines at 8,000 – 10,000+ feet; AZX.V's Akasaba current resource has been delineated to a depth of ~300m. AZX.V has since explored to ~600m and has recently conducted 12,277 m of drilling on Akasaba (completed in 2013 and 2014). Successful mines in the Abitibi area typically have a few years of production lined up ahead of time and just keep going for decades, adding as they go. Also typical for Abitibi deposits, the grades often increase with depth -- so too is the case at Akasaba.
Valdora 2014 step out -- 2,128 m of drilling was completed in 2013-2014 on Valdora which is a step out just to the north of Akasaba; AZX.V released initial results from this winter program, revealing intercepts in the range of 2.82 g/T to 19.2 g/T (see related February 20, 2014 release entitled "Alexandria Drills 142.50 g/t Gold Over 0.3 m in Its Winter Exploration Drill Program, Val D'or"). Highlights of this drill program include the following significant drill results:
5.29 g/t Au over 4.00 m, including 19.20 g/t Au over 1.00 m, in hole IAX-13-245, which expands the high grade zone at 350 m depth below the Akasaba Mine, and

2.81 g/t Au over 16.80 m, including 142.50 g/t Au over 0.30 m, in hole VAX-13-005, as part of Alexandria's first significant drill program on the Valdora project, located immediately north of the Akasaba project.
Other related releases:
April 24, 2014 "Alexandria Intersects 11.20 g/t Au over 0.90 m at Valdora, Appoints Philippe Berthelot as Vice President of Exploration"
New IP Geophysics completed in Q1 2014 identified significant targets on the Akasaba and Valdora Projects - Click here to see related March 12, 2014 release.
------ ------ ------ ------ ------ ------ ------ ------ ------
Sleepy Project - 100% Owned
The sleepy project has a current Inferred Resource (Q3 2009) of 150,400 oz gold underground (1,557,000t @ 3.0 g/t Au) and it lies within 15 km of 4 mills operating below capacity.
IMPORTANT NOTE: In our opinion, the Sleepy Project harbors near-term catalyst potential for upside price movement of AZX.V as the Company is aiming to provide an updated resource later in 2014 -- Mining MarketWatch Journal guesstimates 400K - 500K oz gold at a fairly high grade will be revealed in the revised resource. There should be high interest in Sleepy as we expect it to be viewed as a fairly good size and quality deposit, located in amongst several Val d'Or mills looking for feed.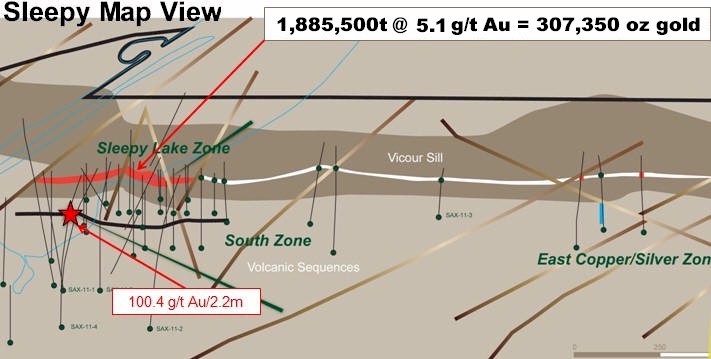 Figure 8. (above) Sleepy project map view - AZX.V has completed 41 drill holes (totaling 20,445 m) to date and has encountered spectacular intercepts since the last resource in 2009
e.g.:
SAX-11-004 4.20 tw m grading 28.75 g/t Au
SAX-11-005 2.40 tw m grading 11.28 g/t Au
SAX-11-009 15.85 tw m grading 6.66 g/t Au
SAX-13-025 4.65 tw m grading 6.65 g/t Au & 0.15% Zn & 2.6 m tw grading 5.73 g/t Au

Figure 9. (above) sleepy project composite longitudinal - The sleepy deposit is a fairly high-grade disseminated gold pyrite ore body. AZX.V has drill holes down below the existing resource that intersected much higher grades and wider than the resource intercepts; e.g. 6.8 g/T over 16 m (true width), 11.29 g/T over 3 m. AZX.V has blue-sky potential to increase mineralization at Sleepy along strike and at depth.
Related news release regarding Sleepy Gold Project:
• April 11, 2014 "Alexandria Drills Sleepy with 2 Rigs, First Hole Intersects 19.65 g/t Gold Over 0.40 m"
------ ------ ------ ------ ------ ------ ------ ------ ------
Oreanda Project - 100% Owned
The Oreanda Project has a current resources (Q4 2009) of 446,891 oz gold Measured & Indicated (~10.2M Tonnes @ 1.35 g/T Au), and 302,469 oz gold Inferred (~7.4M Tonnes @ 1.27 g/T):
The Orenada 4 Pit and zone contains 353,756 ounces grading 1.48 g/t gold and another 113,025 ounces contained in the inferred category grading 1.57 grams/ton.
The Orenada 2 Pit and zone contains 93,134 ounces in the M&I category grading 1.02 grams/ton gold and 189,444 ounces in the inferred category grading 1.14 grams/ton gold.
Figure 10. (above) Oreanda potential mine plan -- Oreanda is ripe for monetization near-term: In the early 1990's Aur Resources completed a bulk sample that produced ~4,000 ounces of gold (72,195 tonnes grading 1.72 g/t Au). Oreanda is a surface bulk-tonnage deposit with 24-36 month production potential with outsourced milling. The deposit also has underground potential. It lies within 15 km of 4 mills operating below capacity. Given that Oreanda is a lower-grade bulk tonnage project, AZX.V would be ideally served shipping to the Sigma mill which is only ~4 km away -- however Sigma was owned by Century Mining which suffed from failed financial health, so it is in abeyance. It appears only a matter of time before a suitor comes knocking.
The deposit has had more than 50,000 m drilled and AZX.V has realized is gold resource at ~$8/oz discovery cost. The deposit is open along strike and at depth.
------ ------ ------ ------ ------ ------ ------ ------ ------
Alexandria highly prospective for major gold discovery as it tackles the whole western half of its 35 km property package for multi-million ounce deposits: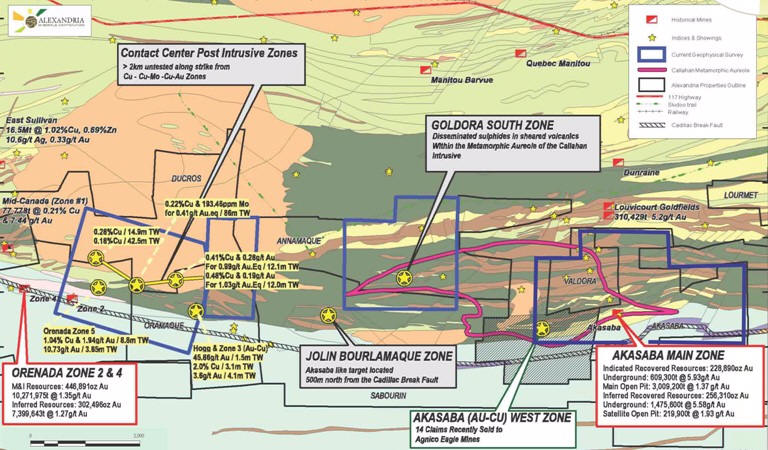 Figure 11. (above) Western section of AZX.V's Cadillac Break Property - AZX.V's success and understanding surrounding what it has done stepping out from Akasaba leads the exploration team to believe AZX.V will encounter success by stepping away and finding more gold in 2014. It has just started the process of taking the whole western half of its 35 km property package and trying to find significant gold; the drill program that it just finished up in January in the north part of Akasaba and in the Valdora property to the north, was its first significant drill program in that effort. AZX.V released initial results from the winter program of intercepts in the range of 2.82 g/T to 19.2 g/T. Numerous sub-parallel, east-west trending, gold bearing zones with similar characteristics as the Akasaba have been identified across the property and the underlying geology is similar to that found under the prolific Bousquet-Doyon-LaRonde District where ~26 million ounces gold have been mined across an ~8km stretch -- AZX.V believes it its claim package has similar if not greater potential.
Multiple exploration targets have been identified along the southern contact between the Ducros (Center Post) Intrusive and the volcanics of the Heva formation. Targets have been identified ~2 km along strike from historical Cu, Cu-Mo mining activity. There are multiple underexplored Au-Cu zones. Geophysical surveys conducted this Q1 2014 (the areas seen in blue in figure 11 above) will assist in risk mitigation and have identified significant targets.